The And Just Like That… Season 2 finale aired on August 24, 2023, yet news that Season 3 had already been greenlit dropped just prior to the season finale. So, now that we know Carrie Bradshaw, Miranda Hobbes, and Charlotte York will return to take on the big, bad city for another round, we have some narrative aspirations we'd like to see surface. 
Spoiler Warning for the And Just Like That…Season 2 Finale 
A brief season 2 finale recap to jog your memory… 
Let's take a trip down memory lane and return to the distant past — August 24, 2023. Aidan tells Carrie to wait five years for him so he can tend to his teenage son — who desperately needs his presence consistently. (Carrie may be his greatest love, but his children rightfully come first.) Miranda and Steve reconcile, and Miranda takes to the BBC. Charlotte prospers in her new job — yet deals with some pushback at home. Seema meets a handsome movie star and falls in love. She merely needs to overcome her anxieties and deep-seated doubts and bask in the glory of romance. Nya rekindles a spark she felt with a stranger earlier in the season — who serendipitously happens to be the Michelin Chef preparing Carrie's "Last Supper." Lisa, who gets pregnant earlier in the season — and proceeds to worry about how it will impact her now-thriving career — has a miscarriage she blames herself for before relinquishing her guilt at Carrie's extravagant dinner party. 
Got it? Good. With those closing moments in mind, what do we hope to see for our primary protagonists moving forward? 
Carrie mourns Aidan's absence but ultimately decides to date
We cannot have a reboot or spinoff (or whatever word you deem suitable) of Sex and the City and leave the primary protagonist sexless and lonely for the remainder of its run. Aidan cannot expect Carrie to twiddle her thumbs in a city thriving with single, successful men who would be lucky to call the talented, insightful, and passionate fashionista their own. 
So, we hope to see Carrie struggle with Aidan's absence but ultimately decide to reenter the dating world — maybe with a little foray into the likes of Bumble and Tinder (which would bring some much-needed levity into the situation, for we all know that app behavior is a far-cry from gentlemanly). Carrie may need to enter a bit of a fun phase – less class, more carnal — and take a page from Samantha's playbook until she's ready to seriously date again. (This may not be the most "Carrie" plotline, so it would require a substantial foundation and a heavy push from the sensuous and shameless Seema). 
Miranda and Steve learn how to successfully co-parent…and Steve meets someone new
Just as Miranda and Steve sink into a rhythm. Just as they become the parents Brady needs — divorced but united — Steve will meet a woman he can see a future with. It's Steve's turn for a new, meaningful relationship. And Miranda, as much as she has moved on from this marriage, will still face a little jealousy. She will witness the man he is when he's in love…but from the outside this time around. She will watch the new woman receive the gentle touch she received from him all those years ago. It's not that she wants him back, it's simply that nostalgia and cozy memories have a way of leaving behind poignant pings.
A healing moment 🤍. pic.twitter.com/NZQz7xgtmY

— And Just Like That… (@AndJustLikeThat) August 25, 2023
Brady's reaction to this can go one of two ways — super supportive, leaving Miranda feeling like the bad guy, or a bit hesitant and confused. We're leaning toward the former given Miranda's extra-marital affairs and harsh prior treatment of the man she married. Miranda may date the woman she met after the BBC spot, but we hope this doesn't work out. Miranda should be single for a bit to figure out who she is, what she wants from romance, and what she needs in life. 
Charlotte's career thrives, and the potential for an extra-marital affair falls in her lap 
The dysfunctional work-life balance dilemma facing Charlotte and her family will dry up, and we'll need something to spice up her storyline. As her career thrives, let's have a potential buyer enter the picture (pun intended) who is debonair and polished. Smart and interested in her work. A flirtatious one with an eye for brunettes. 
He will have a penchant for the finer things in life, and he will stand 6 feet, two inches tall with windswept black hair in a designer suit so perfectly tailored he could walk the red carpet. Now, we're not saying Charlotte will go through with any extra-marital affairs, as such would be so antithetical to her identity. However, what's more likely is that she will feel guilty for desiring him. She will need to talk with her girlies, for she will be fixated on her first emotional and sexual response to this stranger — let's call him Alexander Newhouse (proper WASP). Charlotte will have to face the harsh reality that desiring other men is not a smudge on her status as a wife, but a natural human response. Yet, it will be a tough pill to swallow for the straight-laced, Betty by the book, rule-following, societal-norm-adhering Charlotte York. 
Seema and the movie star try long-distance 
Seema has never felt a pull so strong to a man as the one she feels for the movie star she has landed. There's just one problem: he has to fly overseas to work on a production. He asks Seema to join, but she explains that she has never and will never sacrifice her career for a man. And her career is in the Big Apple.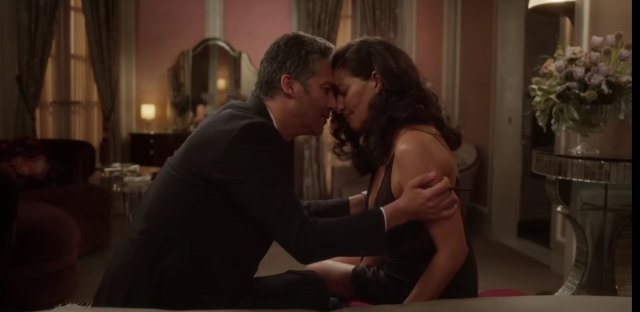 Because these two seem madly in love — and because money is not a question for them — they can give long-distance a shot. They can get on planes whenever they want — no matter the cost. While a long-distance relationship is hard for many, it's easier when finances are not part of the dilemma. So, seeing Seema invest time and energy into this relationship is what we want for her. We want to see her fall so hard that she takes every reasonable step to make it work. If it still isn't meant to be, then we will accept that. But giving up now feels like the wrong choice. 
Nya starts a passionate romance with the Michelin Star Chef 
These two have so much heat that Nya leaves Miranda to face the wolves (Che) on her own, so she can flirt with the handsome, talented man before her. The two of them even get a little flirtatious among all of Carrie's guests during "The Last Supper."
It goes without saying that we're going to get a whirlwind romance between these two characters – with some mouthwatering dinners…and maybe some mouthwatering sex scenes. This relationship — for however long it lasts — will finally help Nya move on from Andre for good, as she comes to realize that her ex may have been a love of her life, but he is not the love of her life.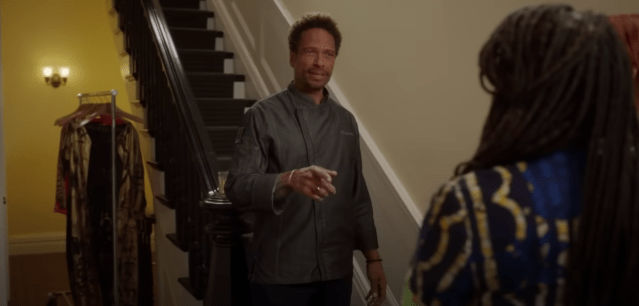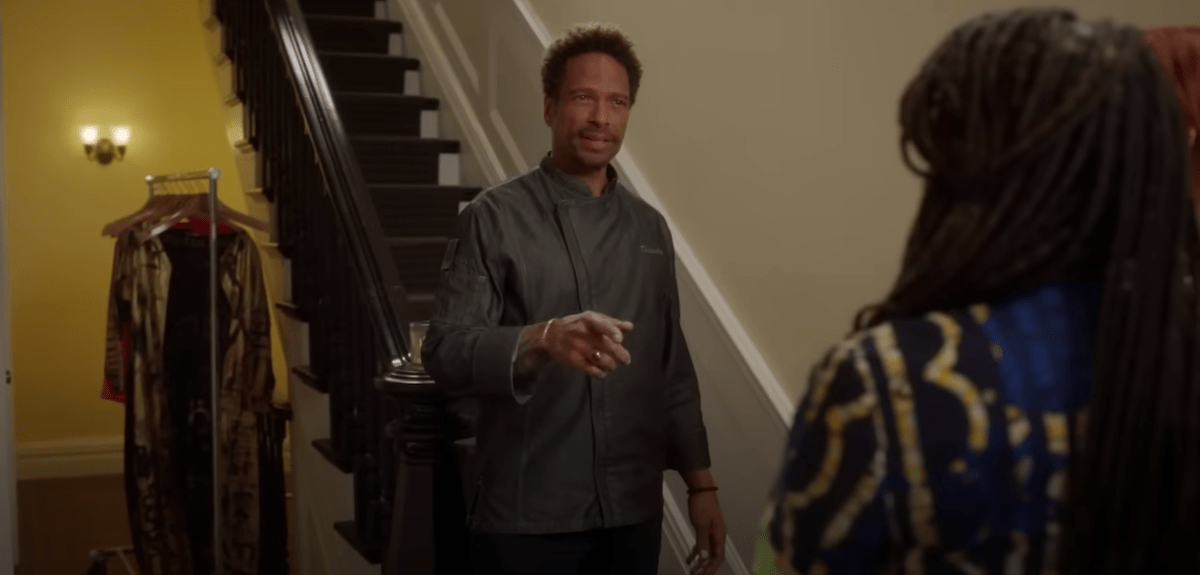 Lisa's career flourishes, and she steps in as one of Charlotte's primary confidantes 
It's time for Lisa to shine. Her documentary filmmaking skills are finally receiving the attention they deserve, and season 3 better continue to put her career in the spotlight. That being said, Charlotte and Lisa have gotten closer with each passing episode, and season 3 would be the perfect time for them to reach that "besties" peak — for Lisa to become someone Charlotte calls when she's in a state of anxiety (instead of Carrie). Someone she calls when she needs someone with a life similar to her own: with a perspective rooted in a family structure that mimics hers — something Miranda and Carrie do not boast.
Not to mention, if the opportunity for an extra-marital rendezvous does wind up on the table for Charlotte, Miranda isn't exactly the best person to ask (given her less-than-admirable actions) and Carrie — who has just lost Aidan after losing Big — may not be in a place to handle such dilemmas with objective clarity. It wouldn't be out of character for Carrie to minimize Charlotte's problems given Carrie's current predicament and history. 
Will Anthony be clad in white by the season's end? 
And as for Anthony, we have but a few words…He better try to put a ring on that hot Italian poet with an accent to make you swoon by the end of the third season.
While his new love interest is much younger, he seems mature and sexually experienced. He does not seem to yearn to sow any oats, and Anthony seems to have captured his heart…so much so that he's willing to stay in America for him. Is anyone up for another gay wedding? This time, let's take the cast to Europe in a two-part season 3 finale wedding extravaganza.
With And Just Like That season 3 still many moons away, we'll just have to wait and see how many of our narrative hopes and dreams come to fruition.