Spoiler Warning For 'And Just Like That' Season 2, Episode 9
Romance is in the air in the latest episode of And Just Like That. Aiden and Carrie are still cruising along on cloud nine. Sparks are flying between Seema and her new movie-star client. Nya is enjoying a little no-strings-attached fun in the boudoir with a curly-haired Fabio type. Antonio (though skeptical at first) is falling head over baguettes for his younger Italian man with a swoon-worthy smirk and accent. Yet, there's one budding romance that has the greatest potential of impacting the course of the series. 
Could it be that Miranda's son Brady and Charlotte's daughter Lily are hooking up? Is it serious? Is it just hormone-fueled teenage recklessness? Is it, though not biologically incestuous, still a bit uncomfortable? Maybe all of the above…
What happens between Brady and Lily in 'And Just Like That' Season 2, Episode 9? 
In the latest episode, Miranda — in typical Type A fashion — is worried about Brady's future. He's working at the bar, and she's concerned that his greatest life achievement will be "mastering the crinkle-cut" french fry. Because Lily is so ambitious and college-focused, Miranda calls Charlotte to request she send Lily to rub off on him. Yet, she expected a more metaphorical "rubbing" of admirable qualities — not body parts. 
Miranda arrives at her Brooklyn home after sleeping at Nya's house and comes upon Lily stepping out of Brady's bedroom in the morning. She's got an oversized shirt (that clearly does not belong to her) and a bewildered expression crawls across her face when she spots Aunt Miranda. The scene doesn't exactly scream innocent sleepover. 
In the rest of the episode, the two chat it up, as Miranda and Charlotte do their best to spy without getting caught. Was that shoulder rub intentional? Was it flirting? Are they laughing at the same images on their phone, or merely staring at their devices in each other's presence? Is this friendly or flirtatious? Platonic or passionate? Charlotte decides that she doesn't want to know what's going on, and Miranda respects the choice. They seem to let their teenage offspring be, yet what would a romance between these two look like? How would it impact the series? Let's ponder.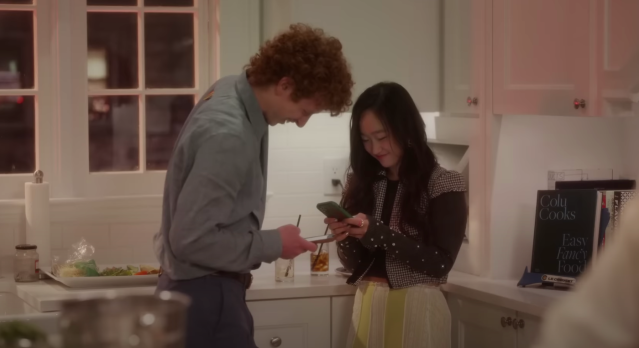 What a Brady and Lily relationship could mean for 'And Just Like That'
In a moment of overthinking and anxiety, Charlotte begins to consider all the options. What if one of their kids inevitably gets hurt, and it negatively impacts her relationship with Miranda? What if they go the distance and Miranda becomes a monster-in-law to her darling daughter? What if they go the distance and Miranda and Lily have the best in-law relationship on the planet; Will Charlotte feel like a third wheel? In the end, the marriage plotline definitely seems like a reach.
It's likely that — if Lily and Brady are hooking up and things get serious — the two will have discussions (more naturally and less forced) about college and their futures.  Brady may feel inspired to attend college, but he may be thinking about it from the perspective of impressing Lily, as opposed to following his true ambitions.
We know that Brady has a tendency to go above and beyond when in love (or in lust) based on his failed prior relationship. This is when Miranda will have to be the wonderful mom she is and dish aside all her preconceived notions of success and drive. She will need to ensure that Brady makes the decision that's best for him…even if it's the exact opposite of the one she wanted Lily to inspire. This seems like the most logical outcome of their romance, as it would bring the focus back to the adults and the parent-child dynamics, as opposed to the child-child relationships (and this show is about our leading ladies in the end).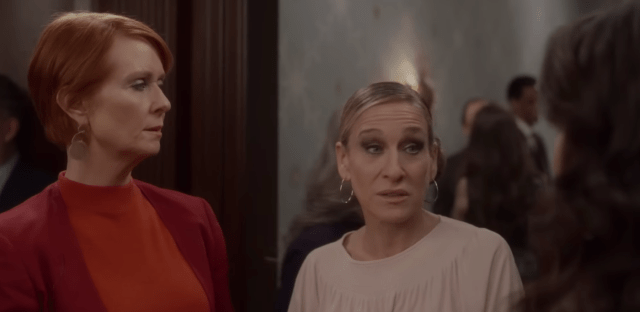 As for Lily and Brady's romantic future, it seems almost inevitable that they will break up, but with the season finale fast approaching, the writers will likely be able to decide (in a future episode or season) whether they wish to make this a point of contention or a smooth split. They could simply send Lily off to school or some sort of internship program that takes her out of New York — making their breakup less sloppy.
Considering this is a show about the adults in the room, a sloppy breakup that interferes with Miranda and Charlotte's relationship just seems a little offbeat for the series, so we're leaning away from that plotline (but it doesn't mean it couldn't warrant a side plot in an episode or two). W
We'll just have to wait and see what's in store for Brady and Lily in the And Just Like That season 2 episodes 10 and 11 ( airing on August 17 and August 24, 2023)