The tables have finally turned and things are looking up for Belly and the Fisher boys in 'The Summer I Turned Pretty,' Season 2, episode 7: "Love Affair." Yet, the romantic entanglements get even more complex.
Throughout season 2 of The Summer I Turned Pretty, our teenage protagonists have worked diligently to save their home from their wicked, but more so misunderstood, Aunt Julia (portrayed with nuance and gravity by Kyra Sedgwick). While they've fought with her and pleaded with her, they haven't been able to convince Julia to back out of the sale. Even her own child proved incapable of shifting their mother's convictions. 
At the end of the prior episode, Belly calls her mom drunk and crying – and leaves a voicemail begging her to come and rescue her. For, at the end of the day, these are just kids, and sometimes you still need momma. Sometimes you need that parental presence to set you at ease, and remind you that there is always a safety net amid the chaos…yet the "rescue" part doesn't exactly happen immediately. 
Belly and Laurel get into a fight 
Laurel awakens Belly from her drunken slumber with aggravation bubbling beneath the surface — ready to explode. Laurel tried to call her daughter back multiple times the night before, and she didn't answer. She was passed out from the booze and festivities. Belly has also been lying for days about where she is. The two argue as Belly confronts her mom about the rage she's been holding inside — the anger she has following Belly's selfish actions at Susannah's funeral. Belly also notes that her mom abandoned Susannah's boys, which would have left her late best friend devastated. 
Laurel slaps Belly in a jaw-dropping moment that felt a bit out of place for the series, as well as utterly destabilizing. Laurel has never seemed like the kind of parent who would get physical with her children. They go their separate ways but eventually reconcile later in the episode, as Laurel admits that everything Belly said during their confrontation was true. Laurel notes that she wrongfully thought feigning strength in the face of insurmountable grief was the right move. She should've, instead, allowed her children to be there for her (and vice versa). 
Laurel gets to work 
While the kids are cleaning up the house from the party that has left it looking tornado-stricken, Laurel gets the chance to talk to Aunt Julia. Woman to woman. Adult to adult. Sister to bestie. 
Aunt Julia opens up to Laurel and comes to the realization that choosing to sell the home against her sister's wishes is coming from a place of childhood turmoil and trauma. It's an emotional, albeit short-sighted, reaction to pent-up issues that were never resolved. She decided to back out of the sale, as Laurel explains that the Fisher boys' grief for their mother is so wrapped up in this beach house. There's only one problem: who's going to buy the house?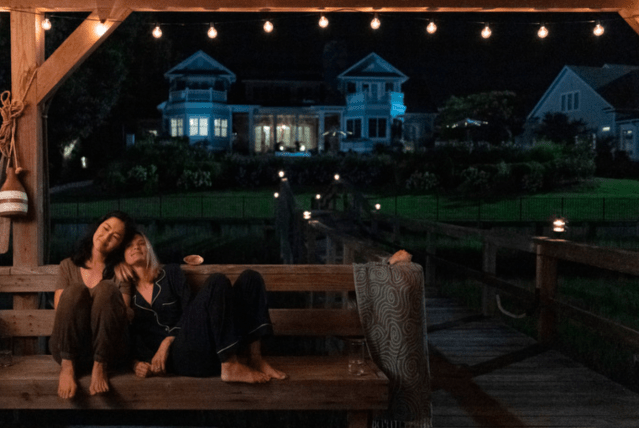 Time to call Adam Fisher 
Laurel summons Adam (the boys' father) to the house to convince him to buy it. At first, he naively assumes that she's there to back him up — to support the sale and his refusal to allow his sons to use their trust to purchase the home. He's right about the latter. Wrong about the former. She doesn't want to use Conrad and Jeremiah's trusts; she wants Adam to move some money around and buy the house with his personal funds. 
He says no…of course. And the award for Father of the Year goes to… Yet, when Conrad, Jeremiah, and the whole gang of kids come out in ambush fashion, he reconsiders. He decides that he will sell the house in Boston so that they can keep the beach house…which has always been more of a home to them anyway. Everything is looking up as the season approaches the finale (if only we had drunken-dialed Laurel earlier), but what about all the romantic entanglements? 
Belly goes for Jeremiah and Steven and Taylor seem coupley 
As the end of the episode approaches, Taylor decides it is time for her to return home, as the unfolding events have turned into quite the family affair, and she feels a bit out of place (she also gets to dodge the clean-up this way). She and Steven have quite the romantic departing, as he gives her the keys to his car with a flirtatious sparkle in his eye. Belly asks Taylor if they're a thing, and she virtually agrees — noting that Steven is "obsessed" with her after all.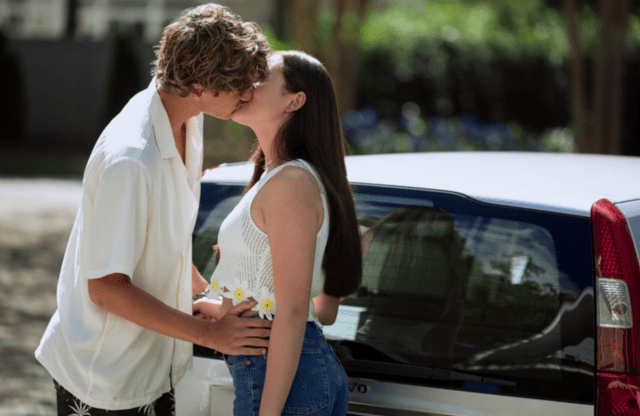 Throughout the most recent episode, Jeremiah and Belly grow closer. He's the one who comes to comfort her after her argument with her mom…not Conrad. And, in the final moments, she asks him if he'll ever be willing to try with her again. Will he ever trust her? He explains that he's afraid she will break his heart again, to which Belly explains things are different now, before asking him if his desire for her is still present. He looks at her with passion and adoration in his eyes (as if the question need not be asked at all). They proceed to make out intensely on Finch's campus following a picture-perfect day of touring the grounds. And, right as everything is rainbows and unicorns, we hear a little throat clearing from a corner off-screen; the camera pans to Conrad, who has been watching them make out.
It's important to note that earlier in the episode, Steven told Conrad that he has his approval to go for Belly, but he'll come for him if he messes with her heart again. It's clear that Conrad is still deeply in love with Belly and wants a second chance. The question is: Will he try to steal her from Jeremiah, or will he let his brother and former love enjoy a passionate romance as best friends turned lovers? Will Conrad interfere? Will Belly go back to her first crush, leaving Jeremiah in pieces once again?