Welcome to this fairly spoiler-free review of Red, White & Royal Blue!
Coming off the wake of watching Amazon's film adaptation of Casey McQuiston's perennial hit novel, Red, White & Royal Blue, that swoony feeling you get when you watch two people fall in love hasn't quite dissipated yet. As soon as I saw it was available to stream (It's already up right now on Prime, guys!) I pressed play with feverish abandon. The wait is over. A book that I loved when I first read it years ago, and I got to watch it all unfold before my eyes.
If you're a regular reader here, then you might remember my reaction to the film's official trailer as it dropped last month. My focus was entirely on the chemistry between the American President's son Alex Claremont-Diaz and England's Prince Henry. That tension would make or break the movie. I'm happy to say that we now have the answer. Here are my favorite things about the Red, White & Royal Blue movie…and one unfortunate gripe.
The chemistry was out of this world.
Like I said, this was the one thing that could turn the movie from good to terrible, or okay to fantastic. Luckily, it was the latter. While the first interactions of the film, when Alex and Prince Henry actively hated each other, bordered on cringy, it was their slow-at-first and then rocket-speed ascent to lovey-dovey paramours that provided all the necessary swoons.
Yes, they have the sexual chemistry, necessary for a film that goes a touch beyond chaste kisses, but it's not just that. They have the romantic chemistry too in the way they looked at each other. They way they held each other's hands, and all the little things that people do when they care about each other. If you told me that the film's actors, Taylor Zakhar Perez and Nicholas Galitzine, have fallen in love in real life, I would fully believe you.
The way they portrayed the text and email side of their relationship was unique and fun.
If you've read the book, you know that much of the shift from enemies to friends to something more happened while on other sides of the Atlantic. For most films that feature text and email conversations, audiences are left to speed-read texts as they fly by on screen in some flashy graphic way. While this montage starts that way, the filmmakers got creative with it in a way that I haven't seen. The off-screen characters acted as facsimile ghosts, fading in and out of the scene. I applaud the filmmakers for finding a new way to bring the 21st century to their movie.
The physical closeness of the cast was a nice added touch.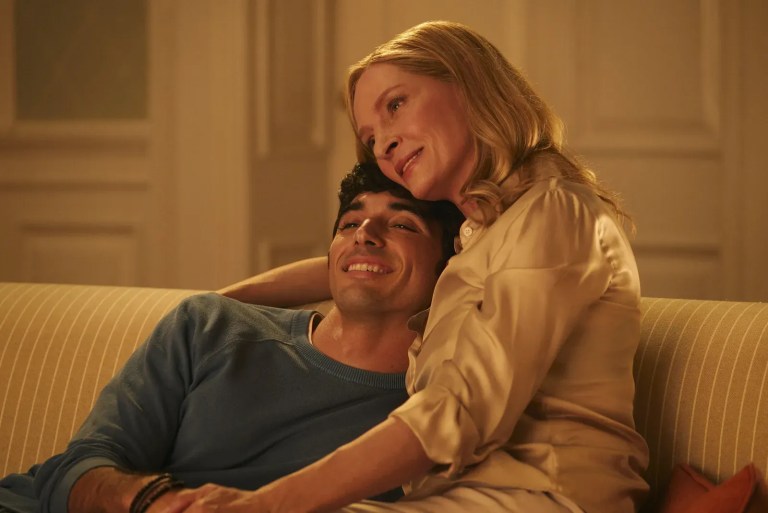 So many onscreen relationships feel cold. People are supposed to be mother and son, but they're always several feet apart, for example. In Red, White & Royal Blue, they showed close physical relationships between more than just Alex and Henry. When Alex tells his best friend (and the granddaughter of the vice president), Nora, about what's going on, they sit on a tiny couch clutching each other like real-life old friends. Or when Alex has a heart-to-heart with his mom, the president, played by Uma Thurman. Again, they're embracing on an elaborate sofa in the Oval Office. It's time's like these, when you see characters actually touching each other, that you realize how little you see it in other movies.
BUT…the film's universe felt sterile.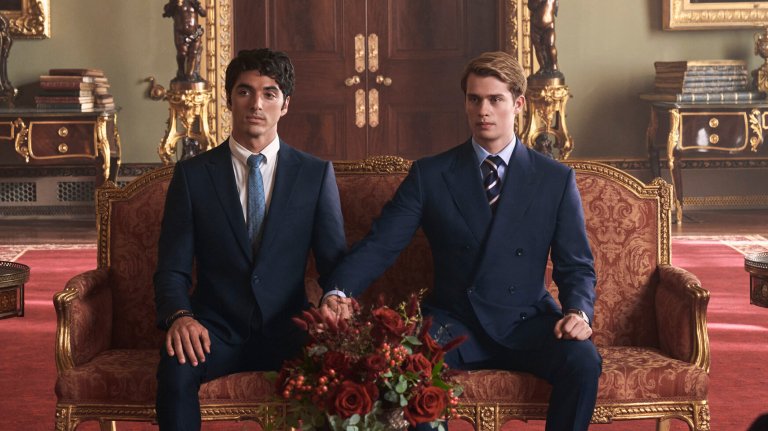 Red, White & Royal Blue isn't without fault. While it felt otherwise pretty dang perfect to me, a faithful adaptation of the original novel, there's one area where it was sorely lacking. The entire movie felt too clean, too sterile. I understand why scenes in British palaces would be too clean, but Alex's bedroom? So in order? Lacking any personal effects? In the world of Red, White, & Royal Blue, there is no dirt,  no grime, no wrinkled sheets, no personality beyond the actual literal personalities of its inhabitants. This and the obvious greenscreen at certain points gave away the made-for-streaming status of the film compared to the detailed and personality-filled set design of a mainstream feature film.
Is it a small gripe? Yes. But it's also a reminder to the audience that yes, this is a movie. And no, unfortunately, everything you're watching isn't real.
Should you watch, Red, White & Royal Blue, now available on Amazon Prime? That's a "hell yes" from me.