What happens when you combine forbidden sex with unbridled wealth? How do we respond to a show that's no more than smut in a Gucci belt?
Sex/Life, Obsession, Tiny Pretty Things, and, now, Fatal Seduction. Netflix has been churning out sex-centric series for the past few years— shows that bring your wildest fantasies to the screen in soft-core-porn-level detail…but with a bigger budget. 
Naked butt cheeks slowly slipping out of tight boxer briefs. Bathing suit bulges leaving little to the imagination. Side boob peeking out from a dress with a slit cut down to the small of the back. Heavy breathing and moans of satisfaction accompany forceful thrusting and perfectly-choreographed position changes. Open-mouth kisses on the lips — and everywhere else. You get the idea. It's sex, sex, and more sex. It's been 15 minutes without a sex scene, you say? Just throw those two characters drinking coffee on top of one another and we'll find a way to narratively justify it later…if we care to.
While these shows often boast some sort of thrilling subplot, the narrative is (more often than not) a distraction from the far-more-entertaining steam. Yet, what is it about these shows that work? Netflix keeps pumping them out, critics keep raking them through the coals, and people keep watching them. Viewers are not watching for the plot, and the creators are not writing with a plot-centric focus. So, what's the deal?
Looking at Fatal Seduction, which boasts many similarities to its sex-crazed predecessors, it's clear that there's a combination of sex and luxury at play. Unbridled wealth meets unfettered desire. It is this specific combo that makes Fatal Seduction a candy store — but for adults. 
A candy store is a child's favorite spot. Bright colors and endless options of "forbidden fruit" — edible choices parents limit due to their unhealthy nature. Chocolate. Vanilla. Licorice. Skittles. Marshmallows. Pez. More, more, more. But, at the end of the day, it's all sugar no substance. 
Similarly, Fatal Seduction is all magnificence, no meat. Replace those bright-colored Skittles with red Ferraris. Replace the heaping marshmallows with silk-covered pillows. The endless chocolate fountain with an Olympic-size pool and flowing waterfall. On-screen wealth, and the privileges it affords, provide adults with their candy store. The car. The home. The other home. The other car.
But, what about the forbidden aspect akin to a child's experience in a candy store? If you have money to spend, should it be forbidden to spend it? This is where desire-fulfillment comes into the picture, for sex outside of the home becomes the forbidden fruit. As you masturbate with your huge diamond ring, thinking of a man other than your husband, the audience is right there with you. We place ourselves in the same lap of luxury (as if we could ever attain it), and accept the betrayal as part of the appeal.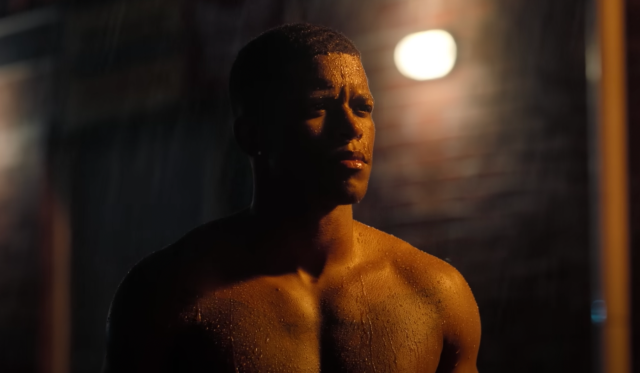 The betrayal is not functioning as bad. Though morally wrong, it merely becomes a part of the show's overall emphasis on beauty. The perfect sex is an extension of the perfect architecture, the perfect wardrobe…the perfect life. The sex with a new, younger man is steamy and adrenaline-raising. It's oh-so-bad, but oh-so-good. It's beautiful, but it's trapped within a world most audiences will never have access to. Just like the best candy is trapped within four walls that children only frequent occasionally, the best sex with hot younger men, in these shows, is trapped behind a paywall. 
The level of wealth on display here is in the 1% territory. Meeting a hot man at a yacht party. Come on. Sex up against floor-to-ceiling windows in a white mansion overlooking a yard that goes on for eternity. It's so unattainable that it's guilt-free escapism to put yourself into the shoes of those whose behavior is questionable. 
Throw an affair into the mix with a middle-class couple and some wide-eyed kids, and you have a tear-jerking, all-too-relatable drama that leaves you questioning your relationship. This is not true when the people themselves are figments of our imagination. When the people themselves, not just the always-orgasmic sex, are representations of an alternate, dreamlike reality.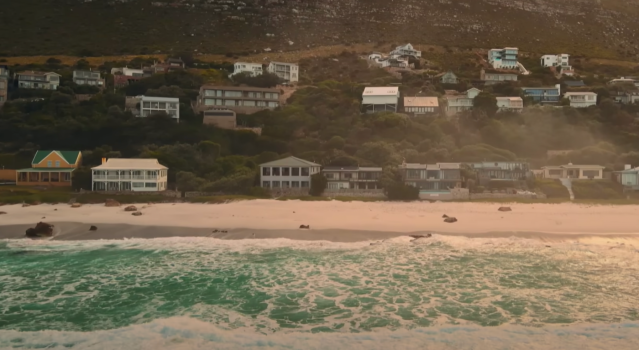 Give us designer clothing that's so expensive it falls to the floor as if defying the laws of gravity. Give us cars that cost more than our homes. Give us homes larger than two of ours combined, and we will feel safe opening the door and entering the candy store — guilt-free. It's a moment of escapism into lavishness and lust. Yet, it is because of the former that the latter thrives — unthreatened by viewer morality or righteousness. 
The primary protagonist may accept the forbidden fruit, engaging in an affair with the hot younger man, but it's never forbidden for the viewer to eat it up. Such an offer, in such a context, will never be available for us to accept or reject. The show does not need to write in relatability, logical excuses, or foundational causes to instill empathy for the protagonist in the viewers. The unbridled wealth (and its systematic visual underscoring in every single scene) acts as a sort of shortcut to acceptance. The affluence is a bridge to relishing in bad behavior. And, raging in the water beneath? All your morals and values you're happy to let drown for a spell. You're too busy looking at the big shiny things to notice them down there. 
In visually depicting the highest degree of opulence, the woman becomes an unrelatable entity to the masses. She becomes a canvas adorned with the most beautiful hues that we just want to stare at. She becomes a pair of Jimmy Choos that we put on for a minute — gloriously picking up all the grit and grime stepped into along the way as part of the splendid stride. It's messy, but we feel good in the mess. It's a mess we don't recognize. It's not forgetting to pick up the kids at soccer or leaving dishes in the sink. It's driving your Audi to have sex with a steamy mechanic on top of a shiny hot rod. It's not just cheating at the local Holiday Inn. It's an intricate dance. A dalliance between the brilliant and beautiful. Can it even be bad when it looks so good?  
We feel good eating all that candy before we return to chicken and broccoli tomorrow. We feel good drowning in that forbidden sex in the home with ceilings touching the stratosphere before we return to our ten-year-old sofa and the Honda Civic in the driveway.