'The Horror of Dolores Roach' is Prime Video's new dark and twisted, yet comedic and heartwarming series, and Justina Machado just had to take on the leading role.
Justina Machado portrays the primary protagonist (antagonist?) Dolores Roach in Prime Vidoe's recently-released series The Horror of Dolores Roach, based on the fictional podcast of the same name. At the opening, Roach is flying high with her man Dominic, who runs the drug-dealing scene in Washington Heights. That is, until she gets arrested, winds up in prison for 16 years, and he's nowhere to be found (with a disconnected phone number to boot). He leaves her "to rot," as she laments with unbridled frustration and disappointment in episode one. 
Luckily enough, Empanada Loca is still up and running. It's the last stronghold of a fading community that has otherwise become utterly gentrified since her time in The Heights. It has been 16 years. 20-somethings sit on their laptops outside coffee shops and walk back home with snake plants for their overpriced apartments. Yet, Luis (Alejandro Hernandez)  is managing Empanada Loca (the shop his father used to run), and he remembers Dolores from back in the day.
Luis offers Dolores a place to stay and inspires her ti run an innocent (yet still illegal) massage business in his basement, but it soon becomes her killing cellar. And then, Luis, well, he puts the human flesh in his empanadas to create a mouthwatering "secret recipe." It's Sweeney Todd meets culturally reflective sitcom. It's funny. It's dark. It's twisted. And, Dolores takes quite the character journey from start to finish. 
Justina Machado and Alejandro Hernandez sat down for an interview with Bonnie Laufer, during which Justina explained why she had to play this character. 
Justina Machado on her need to star in 'The Horror of Dolores Roach' 
Machado explained that she doesn't "know how to explain" why she connected with Dolores, but she just did. She went on:
"I was just dying to play her because it's such a freeing experience. There are no boundaries, there are no limits to what she does. It's so out there. It's so unexpected. It was just incredibly liberating, as a person, as an actress."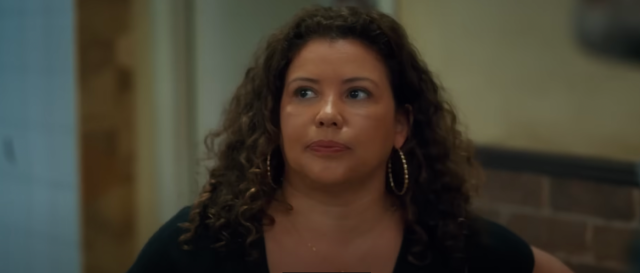 Though Machado has been receiving her flowers for the performance, the job was not easy. She couldn't be more satisfied with the result, but she notes:
"It was a lot of work…I always knew that was gonna be the case…we had to go back and forth from the comedy to the bad, and keep the stakes high…and cram so much story into this."
Though a great deal of work went into The Horror of Dolores Roach, it definitely paid off. The series premiered to strong critical reception and currently boasts a 75% critics' consensus on Rotten Tomatoes. 
The Hollywood Reporter's Angie Han called the series "a twisted treat," while The Evening Standard's Soraya Gaied Chortane shared, "The eight-part series retains the bloody spirit of the audio original, rinsing all the bleak potential out of the gritty New York setting and protagonist— the indomitable Dolores Roach…"
All episodes of The Horror of Dolores Roach are streaming on Prime Video.