Sarah Jessica Parker on the legacy Sex and the City has left behind. From Carrie's iconic fashion choices to the line fans most often quote to her, Parker shares it all.
10.6 million people tuned in to the Sex and the City series finale. They sat in front of their televisions, hanging on every moment with breathless anticipation as Carrie walked away from a life in Paris. We watched as she turned her back on the opportunity to start anew in France with her snobbish artist of a lover, Aleksandr Petrovsky. She tried to settle in this new world, but she couldn't. Something wasn't right. She returned to New York and Big, yet the finale makes clear that her return is about her individual needs (not her romantic ones).
The finale was dramatic, but it wouldn't be the very end. The series went on to spawn two follow-up films in 2008 and 2010. Now, there is even a reboot series titled And Just Like That… starring Sarah Jessica Parker, Cynthia Nixon, and Kristin Davis, as well as some much-welcomed newcomers like Nicole Ari Parker, Sara Ramirez, and Karen Pittman.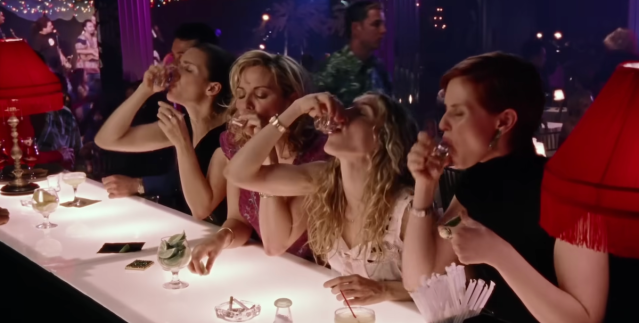 Sarah Jessica Parker recently sat down with Diane Sawyer for Good Morning America to discuss Sex and the City. From the fashion and the fandom to the rules in the writer's room, she dished it all.
Sarah Jessica Parker on the show's fashion choices
Parker explained to Sawyer that, "in terms of Carrie, there were no rules. You wear what you like. You try to tell somebody who you are the minute you walk out the door." And Carrie definitely wore her personality on her sleeve (literally). With outfits that combined patterns others would deen mismatched and bold colors many wouldn't dare to put on their backs, Carrie became a fashion icon. She became a '90s inspiration. 
And though the fittings could often run for "five hours" or more, Parker explained that, no matter how many times she was "poked and pinched and zipped," the fittings were "hugely joyous." Parker notes that she most enjoyed the outfits people "reacted strongly to" as it "never seemed to matter to her what people thought." And that confidence, that unshakeable sense of self Carrie possessed when it came to fashion would go on to inspire many SATC viewers.
SJP on the 'Sex and the City' line most people quote to her on the street  
It goes without saying that Sex and the City boasts one of the largest fandoms of any tv show. Fans are always debating which character they are most like (and which characters are the "best"). Thus, it should come as no surprise that many have memorized some of the show's iconic dialogue. 
Parker told Sawyer that the line people most quote to her on the street is "Hello Lover," but notes she "may be wrong." Carrie utters this line while looking at a very expensive pair of shoes through a shop window. One day, maybe sooner than she thinks, Carrie will be able to afford these shoes…comfortably.
The 'Sex and the City' writers' room maintained one cardinal rule
Sex and the City was bold for its time — unafraid to talk about passion, pleasure, and positions, yet the show's storylines were rooted in reality. SJP shared:
"There's a rule in the writer's room on our show, has been from the beginning that, if an experience didn't happen to one of the writers, if it wasn't a shared experience that was real, it could not be made up."
Maybe the reason the show was so relatable — so in tune with many women's experiences — was because it wasn't doing all that much fabricating.