Shortcomings is Fresh Off the Boat and Always Be My Maybe star Randall Park's directorial debut, and it's a romantic dramedy starring Justin H. Min, Sherry Cola, and Ally Maki. Here's what we know about the movie.
Randall Park's directorial debut, Shortcomings, is based on the comic of the same name by Adrian Tomine. The film stars Justin H. Min as Ben — a struggling filmmaker living in Berkeley, California with his girlfriend, Miko (Ally Maki), who works for a local Asian American film festival. Ben's got a pretty predictable life with a not-so-glamorous routine that involves managing an Arthouse movie theater and chowing down at local diners with his best friend, Alice (Sherry Cola)
The trailer for the upcoming film dropped on June 14, 2023, giving viewers insight into what they can expect from the upcoming romantic dramedy. 
Breaking down the 'Shortcomings' trailer 
The trailer opens with Alice and Ben sitting at a diner that looks like it hasn't been updated since the 90s — ruminating on their high school experiences dealing with discrimination. Yet, for Ben, his "inherent bad personality" was at the root of his persecution, as Alice suggests.
Jump ahead to Ben and Miko discussing an internship opportunity in New York that Miko wants to accept. Ben's got some judgemental commentary about the Big Apple despite his lack of familiarity with the city. If layovers count, he's got some experience with Manhattan. And based on his significant first-hand travels (note sarcasm), it's simply "overrated and "so gentrified now." Could he sound any more like a detached Gen Z-er simply reverberating others' thoughts?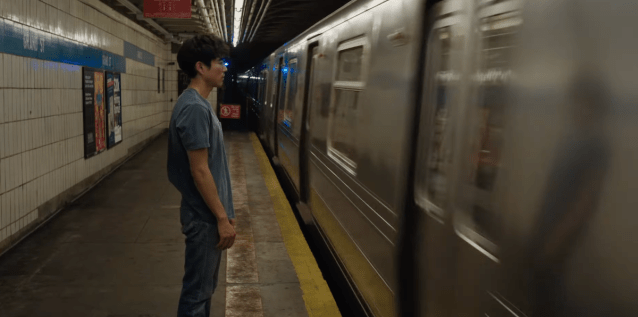 The couple decides to take a break while Miko is away, leaving Ben to explore other romantic options. As the trailer continues, it looks like Miko lied about her internship. And, Ben's best friend, who is queer, is using him to convince her parents she has a boyfriend.
The trailer asks: Will Ben find love? Will Ben find himself? He's a bit selfish, hypocritical, and curt, so he's got some personal stuff to work on.  Based on the trailer, it looks like his relationship struggles and profound friendship will be the catalysts that drive him to find out who is he — and what he yearns for in life.
When does 'Shortcomings' premiere in theaters? 
Shortcomings had its world premiere at the 2023 Sundance Film Festival and is scheduled to premiere in theaters on August 4, 2023. 
The film has already garnered primarily positive reviews from critics who deem it an insightful comedy that bears sociocultural relevance. Not to mention, it could just be the vehicle that carries Justin H. Min to leading man status (which he rightfully deserves). It's funny. It's irreverent. It's filled with unlikeable characters who, as the movie progresses, become utterly loveable. The film currently boasts an 83% critics' consensus on Rotten Tomatoes, making it quite the homerun for Park's first directorial foray.