Jennifer Lawrence stars in the comedy 'No Hard Feelings' across from Andrew Barth Feldman. As for the inspiration behind the movie, excited viewers can thank Craigslist.
The upcoming comedy No Hard Feelings stars Jennifer Lawrence as a bit of a wild-child-turned-hot-mess young adult who's on the brink of losing her childhood home. She agrees to date a wealthy couple's awkward 19-year-old son in exchange for a Buick Regal in mint condition. Laura Benanti and Matthew Broderick play helicopter parents — afraid their son (Andrew Barth Feldman) is a bit too sheltered. They want someone to pull him out of his shell before he leaves for Princeton University. 
Though an old Buick Regal may seem like a not-so-hot exchange, Lawrence is an Uber driver without a car, and it's time to ditch the rollerblades for a more efficient set of wheels. Though the storyline may seem like quite the bizarre setup, it's based on a real-life Craigslist Ad. 
Jennifer Lawrence talked about the inspiration behind 'No Hard Feelings' with 'Good Morning America' host George Stephanopoulos
While speaking to Stephanopoulos, Lawrence explained how, four years ago, an exchange she didn't think much of at the time would become the basis for No Hard Feelings: 
"The director's a good friend of mine, and we've been friends for a long time. And, we were getting dinner, and he showed me the Craiglist ad. And I just thought it was hilarious. I, in no way, thought I was going to be in the movie…there was no movie. It was just the ad, and we laughed about it. And, four years later, he sent me the script." 
As for the ad, it's unclear how much the film's language matches the original ad, but the phrasing in No Hard Feelings is as follows: 
"Need a car for college? Date our 19-year-old son this summer. We're looking for an attractive, kind, and intelligent woman [in her] early-to-mid 20s." 
Lawrence notes that the word date is in quotes, leaving the parents' precise expectations up to interpretation. However, desperate times call for desperate measures. And, before you know it, she's scooping up this awkward adolescent and getting pepper-sprayed. Why, you ask? He convinces himself that she's not a flirt with a penchant for adventure, but rather a smokin' kidnapper. 
Jennifer Lawrence says 'No Hard Feelings' is "The funniest thing [she] ever read" 
No Hard Feelings is Lawrence's first major film since becoming a mom, and she was planning to take a little hiatus to focus on this new phase of life. However, she read the script and couldn't resist it. She told Stephanopolous: 
"I definitely wasn't ready to work. I wasn't planning on working for a long time. I had just a baby, so I definitely wasn't planning on working. And I just, I read the script, and it was just too funny. It was the funniest thing I had ever read."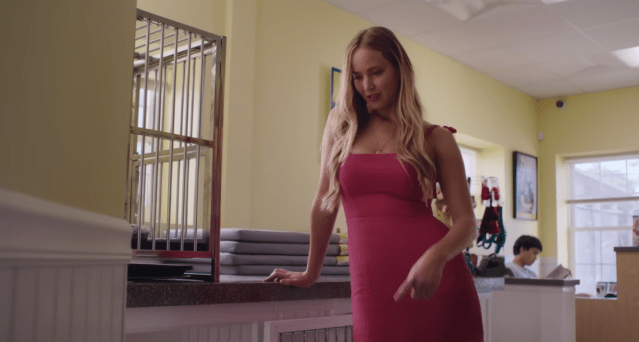 Lawrence is raving about this new comedy, and the trailer suggests that it's chock-full of humor and heart. She explained to Stephanopolous that she just "wants everybody to laugh" when they sit in the theater to watch this bonkers tale come to life. 
With Lawrence in the driver's seat — across from Andrew Barth Feldman (who put off attending Harvard University to star in this film) — it looks like No Hard Feelings boasts the perfect recipe for success. A real-life academic to play the resident nerd and an Oscar winner to play his girlfriend for hire…What could go wrong? 
No Hard Feelings premieres in theaters on June 23, 2023.