Is 'Poor Things' based on Frankenstein? Everything you need to know about the book-turned-film adaptation of 'Poor Things.'
Poor Things — an upcoming Searchlight Pictures film starring Emma Stone, Willem Dafoe, and Mark Ruffalo — is based on the 1992 novel of the same name by Alasdair Gray. The trailer for the upcoming movie dropped on June 8, 2023, and in mere minutes, revealed just how bizarre, subversive, pointed, and wonderfully weird Director Yorgos Lanthimos' latest venture will be. Let's not forget this is the same man behind The Favourite and The Lobster. 
Poor Things is bound to feature some dark humor, deadpan delivery, sociocultural commentary, and utterly absurdist exchanges. However, what exactly is Poor Things about? Why does Emma Stone's character boast robotic movements? Why is Willem Dafoe's face deformed? When and where does this cooky chronicle come to life? 
'Poor Things' follows a doctor who uses experimental means to bring a woman back to life 
Poor Things takes place in 19th-century Scotland and intertwines elements of gothic fantasy, historical fiction, and sci-fi to create a social commentary that reimagines Mary Shelley's Frankenstein through a feminist lens.
Poor Things revolves around Bella Baxter (Stone) — a woman who drowns in a Scottish Loch, yet is miraculously revived by Archibald McCandless (Dafoe). Archibald uses questionable techniques and the brain of an unborn child to bring her back to life. Yet, as the story unfolds, it becomes apparent that Bella is much more than a creature designed to satisfy the whims of her creator. Rather, she is high-spirited and independent, curious and determined. Yet, just as Bella comes into her own, exceeding the expectations of her creator, her past comes into the foreground. She is not who she seems to be…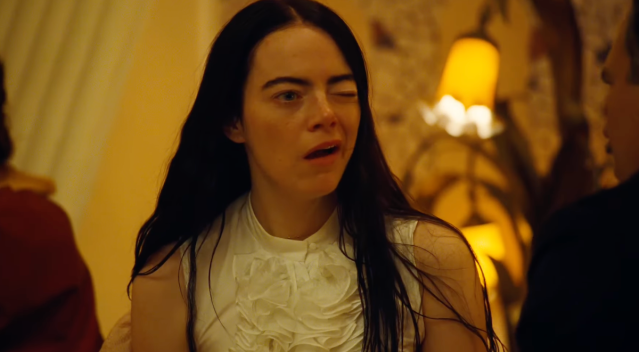 How 'Poor Things' differs from 'Frankenstein' 
Frankenstein is (and always will be) a masterclass in gothic literature — a story that continues to influence creature feature films until this day. Thus, it should come as no surprise that an author sought inspiration from Shelley's tale and spun a new concept. 
Poor Things explores themes of identity and power, as Bella is an active participant in her own creation and growth. She directly opposes the passive role Frankenstein's creature played. She speaks her mind and seeks to fulfill her desires. She is more than the result of unbridled ambition. She is more than a warning — more than a cautionary tale about the inevitable consequences of man playing god. However, these themes all shine through as well in Poor Things. What happens when ethical considerations and moral fortitude are eschewed? Poor Things, just like Frankenstein, will address these cardinal themes, while also spotlighting gender roles, classism, love and romance, the significance and implications of autonomy, and national identity.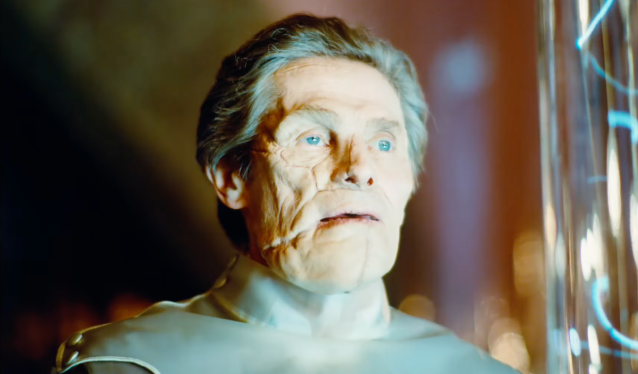 McCandless's deformed face is one of the most visually salient ways this film both pays homage to and strays from 'Frankenstein'  
In Poor Things, McCandless's face is deformed as a result of failed suicide attempts. This fact plays out over the course of the novel and bears oh-so-transparent metaphorical implications. 
McCandless's face is a representation of his inner turmoil, as well as a physical metaphor for the inhumane and imperfect nature of his scientific aspirations. In Frankenstein, the creature is deformed, making the monster an "unnatural sight." Poor Things, right out of the gate, uses McCandless's face to indicate that he is what is unnatural about this scientific creation. He is the monster. His creation is a mere beautiful creature — a once-victim with a vendetta. Rather than developing this thematic undertone via subtext, Poor Things brings it to the surface, letting viewers know that other themes will be more paramount in this retelling. It virtually shoves it in your face — almost as a visual supplanting of narrative moments that would otherwise be integral, yet take away from more vital aspects of this story.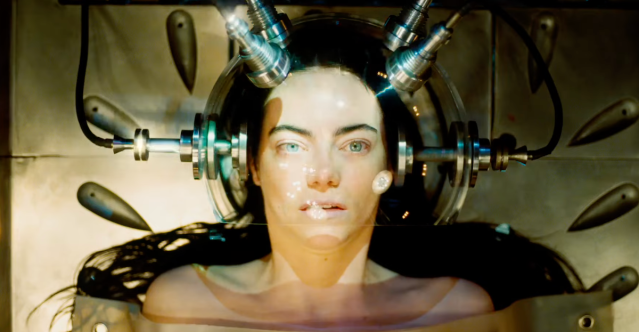 Also, as society has (unfortunately) reinforced across generations, beauty is goodness. This is what is known as the "halo effect," thus Bella Baxter's beauty is in direct contrast with her creator's deformity, which leads to a power imbalance in their relationship. Unlike in Frankenstein, this telling begs to ask — who has more power: the creator or the creation? 
Poor Things premieres in theaters on September 8, 2023, and is bound to be (based on the trailer alone) yet another tour-de-force from Lanthimos. With a stellar cast, an eerie Victorian aesthetic, and compelling source material, what could go wrong?