'Glamorous' will premiere on Netflix toward the end of June, but the trailer is here for us to analyze. Let's break down what we know so far.
The upcoming Netflix original series Glamorous stars Sex and the City alumna Kim Cattrall opposite the singer, actor, and YouTuber Miss Benny in what's sure to be a heartwarming and boisterous series. The trailer for the series dropped on June 5, 2023, providing insight into what viewers can expect from the highly-anticipated series. 
Breaking down the 'Glamorous' trailer
The trailer opens with the high-spirited, gender-non-conforming young man Marco narrating about makeup — as the adolescent with flawless eyebrows and a dewy complexion seems to desire a career in beauty influencing. He is recording himself with a circle light after all. Flash Forward, and he's quickly presented with an opportunity for a "real job" — featuring a cramped cubicle space falling apart before his eyes.
Then appears THE Madolyn Addison — with a name that has that same cosmopolitan ring to it as Miranda Priestly of The Devil Wears Prada. She's clearly a woman in power. You can't spell Madolyn with an "lyn" if you're not dripping with high culture. She owns a makeup empire. And, it just so happens — in serendipitous style — that she happens to be hiring. The trailer isn't exactly subtle as she appears in the light of a makeup display — she is an angelic figure about to give our lead protagonist "a way out."
Marco starts the job, but he's in over his head. He walks into a screen door, deals with papers flying all over the room, and can't seem to get the water jug on the dispenser without creating a mess. All this goes down in the trailer, suggesting that Marco will undertake quite the career journey in the series. If you start at the bottom, the only way is up. But job crises aren't the only plot device at play here. What would a Netflix show be without romances, missed opportunities, and an office jerk or two? Will Marco be able to discover love, success, and the true meaning of makeup? How many people will try to get in his way? We'll have to wait and find out. 
Who else is in the 'Glamorous' cast?
Aside from Miss Benny and Cattrall, the series also stars Matt Rogers (Fire Island, Q-Force, Have You Heard of Christmas), Zane Phillips (Fire Island, Legacies, Partner Track) as Madolyn's son and the Director of Sales, Jade Payton (Dynasty, Good Game) as Madolyn's First Assistant, and Ayesha Harris (Daisy Jones & The Six, Two Sentence Horror Stories) and Michael Hsu (Pretty Smart, Dating My Mother) as graphic designers.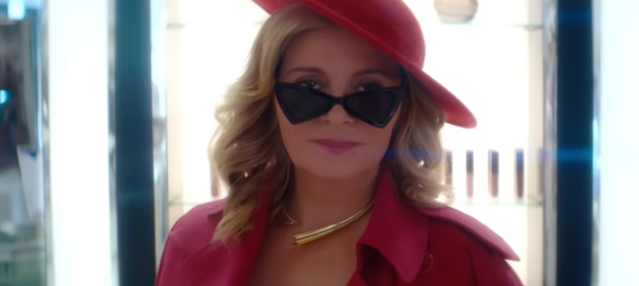 Yet, with Cattrall and Miss Benny captaining the ship, it looks like we'll have a boss-employee dynamic mixed with a parent-child one. This series will presumably see these two pull out the best in each other — as the supporting characters listed above aid in or detract from that mission. Yet, it looks like the supporting players will also have fully developed plotlines with romances and career dilemmas all their own. 
When does 'Glamorous' premiere on Netflix? 
Glamorous will premiere on Netflix on June 22, 2023, and it will consist of ten, roughly 45-minute-long, episodes.
Until this queer-themed show rolls out, be sure to check out these queer movies coming out in June 2023.