It's been a big week for entertainment news. We've gotten updates about the new Barbie movie, a big announcement for Shrek fans everywhere, and rumors about a possible Harry Potter HBO show that no one asked for. If you're feeling a little out of the loop, read on for this week's big stories of the world of TV and movies.
The new Barbie trailer and its doll box memes.
Last December we talked about the teaser trailer and everything we knew about Margot Robbie's Barbie movie releasing this summer. At the time, there wasn't a lot to know about the movie. Well, Warner Bros. blessed us with a new trailer, plus some killer character memes from the official Barbie movie Twitter account.
We're getting an even bigger look at the bright and colorful world of Barbie, including two warring Kens by way of Ryan Gosling and Simu Liu. (Choose your fighter. I'm Team Simu.) While the trailer's getting some reactions, it's the character memes that Warner Bros. posted on Twitter that have got people talking.
Meet our Barbies and Kens ✨#BarbieTheMovie pic.twitter.com/KO2pwszXNJ

— Barbie Movie (@barbiethemovie) April 4, 2023
They look like the cute little art from old Barbie doll boxes.
They have one for seemingly every character imaginable, but my favorites are Emerald Fennell as Midge…
And Michael Cera as Allan. Yeah, this movie is going to be bonkers. Check out Barbie in theaters July 21, 2023.
We're hopefully getting a Shrek 5…with the original cast!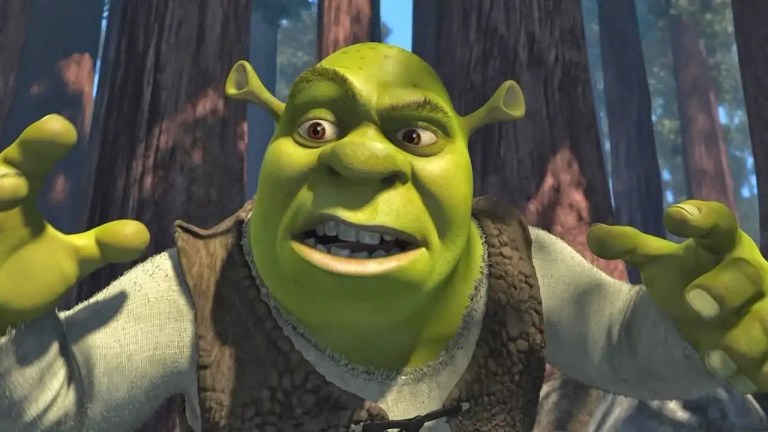 It's no secret that the entire world is in love with Shrek. The first film, which came out in 2001 (feel old yet?), proved that audiences of any age could enjoy an animated fairytale. We fell in love with the titular ogre along with his ladylove Fiona and erstwhile companion, Donkey. Even decades and several sequels and spin-offs later, the franchise is still a favorite among, well, everyone. So when there was some official word of a new Shrek sequel this week, of course it's all anyone's talking about.
In an exclusive interview with Variety, producer Chris Meledandri (who's produced animated hits like Despicable Me (2010) and Sing (2016) and Super Mario Bros. out in theaters this weekend) said he's started the process of getting Shrek 5 the movie it deserves, including nabbing the original voice actors: 
We anticipate the cast coming back. Talks are starting now, and every indication that we've gotten is there's tremendous enthusiasm on behalf of the actors to return.
Hollywood is a fickle thing, though. Deals drop off all the time. While you maybe shouldn't get your hopes sky-high, definitely keep your fingers crossed that Shrek 5 becomes legit.
HBO might fulfill their Harry Potter TV show dreams after all.
HBO, in conjunction with Warner Bros. Television, has been playing with the idea of making a TV show adaptation of the Harry Potter book series for a while now. It shouldn't come as much of a surprise. They already have streaming rights for the movies and hosted the reunion special, Harry Potter 20th Anniversary: Return to Hogwarts, last year. The one thing holding the plan back has been the go-ahead from half the world's least favorite author, JK Rowling. If she's not down with the deal, then it doesn't happen.
Apparently, things are looking up for HBO on the Rowling front. This week Deadline announced that negotiations with Rowling are going well and that Warner Bros. Television will produce it for HBO if all goes well. But do we need a Harry Potter show? Of course, many people aren't too thrilled with this news. Even without the obvious ethical implications–which are large and unyielding–a show that goes over everything we've already read and watched a million times in a million ways might not be the boon HBO is hoping for. Then again, you never know!
And that's it for the big entertainment news you've missed this week. Stick with us for regular insights.