We're in kind of a TV limbo right now. The first season of The Last of Us is finished. Sure, we have new seasons of Yellowjackets and Ted Lasso, but they're giving us little tidbits, one episode at a time. What can you do if you want to binge something new this weekend–especially those who thrive off mystery? I submit to you, my TV binge buddies, School Spirits, a Paramount+ Original. With five episodes out now and the final three coming out in the next few weeks, you can binge this ghostly YA mystery this weekend and get all caught up before the big reveal in the last episode. It's perfect for people who want to solve a good The show currently has an 80% Rotten Tomato rating and 93% audience score.mystery and who love the idea of a high school full of the ghosts of former students who died there.
Whenever Maddie Nears tries to leave the grounds of her high school, she's transported right back to where she died: The boiler room tucked away in the dark dank basement of Split River High. None of the living students or faculty seem to see her, but the dead ones? They won't leave her alone. The dead students who walk the halls have been there for years and even decades, and they want her to join their support group. Maddie would rather do this little thing instead: Solve her own murder. And with the help of living friend Simon–the only person who's ever been able to see and talk to a ghost–she might just figure it out.
So who killed Maddie Nears? Maybe it's Mr. Anderson, the affable English teacher with a dark secret. Or Xavier, Maddie's brooding boyfriend with questionable habits and seriously suspicious vibes. Or Claire, the former friend and head cheerleader who clearly hates her.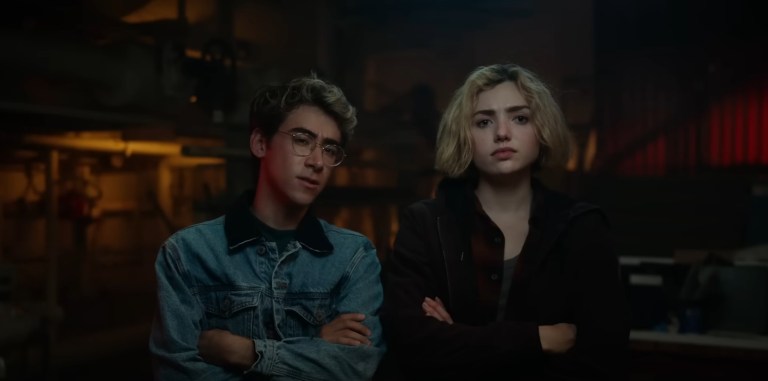 School Spirits began on March 9, 2023 with three episodes and has been releasing a new one every week, all on Paramount+. It stars Peyton List as Maddie Nears. You might recognize her from the Diary of a Wimpy Kid films or the Cobra Kai series.
Other notable cast members include Sarah Yarkin (Texas Chain Saw Massacre (2022)) as cynical beatnik ghost Rhonda, Spencer Macpherson (Degrassi: Next Class) as brooding boyfriend Xavier, and Kiara Pichardo (The Society) as hopeful friend Nicole. Other cast of note–just because I love everything they're doing on the show–is Nick Pugliese as Charley and Milo Manheim as Wally Clark.
Get caught up on School Spirits this weekend on Paramount+ and gather up your theories for who killed Maddie Nears. The show currently has an 80% Rotten Tomato rating and 93% audience score. The season concludes on April 20, 2023.