Paris Hilton released her third book, Paris: The Memoir, her first book detailing traumatic incidents from her youth, especially the two years she spent in the troubled teen industry. The book also covers more uplifting moments in the heiress/DJ/reality star's life, like the real story behind the iconic "Bimbo Summit" photo of Paris, Lindsay Lohan and Britney Spears in a car together. Hilton also talks about her family and drops plenty of fun tidbits about Kathy Hilton and Kyle Richards of Real Housewives of Beverly Hills. Despite the long list, there is A LOT that could not fit into this article. Here are some of the juiciest moments from Paris' new book:
Growing up Paris
1. Paris says the "most money she's ever made from being a Hilton" is her current deal to be the face of Hilton Hotels with her sister Nicky Hilton Rothschild.
2. Rick and Kathy Hilton used to party with Andy Warhol at Studio 54.
3. Andy Warhol told her parent's that Paris was going to be a big star.
4. Paris first went to a club when she was 12. Soon after that she tried to get into a club with Nicky, Farrah Aldjufrie (Paris' cousin you can see on Netflix's Buying Beverly Hills) and Khloé Kardashian but they couldn't get in as they were all in middle school.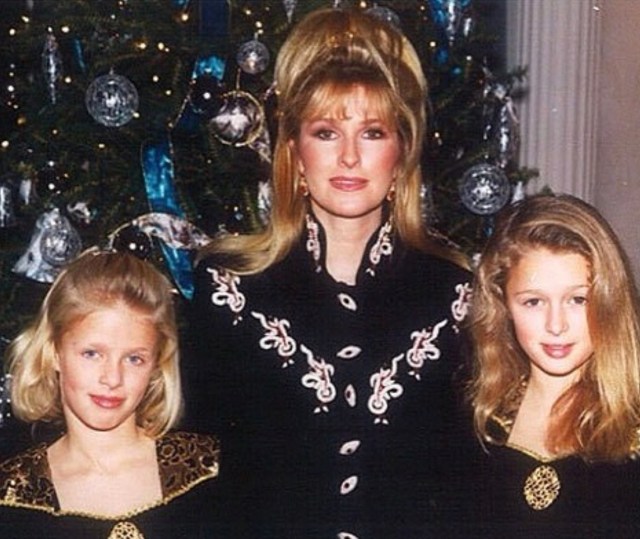 5. One of Paris' main philosophies is that women and girls should feel like "You're not lucky to be at the party; the party is lucky to have you."
6. Her favorite song of all time is Ultra Naté's "Free."
7. Paris was diagnosed with ADHD long ago but has only recently understood how much it affects her life. She has never been able to sit still or do well in school, though it's clear from her writing and business success that she's not dumb. Because of her time in the troubled teen industry (details below) Paris only had a 10th grade education when she was 18. She later got a GED.
8. She says she is a shy extroverted introvert. Her famous baby voice is a defense mechanism that comes out when she's uncomfortable.
9. When she was 8-years-old Paris' nanny was future millionaire Bethenny Frankel who was around 20 at the time and was friends with her aunt, Kyle Richards. She says her and Nicky aspired to be just like Bethenny and Kyle.
10. Kathy Hilton went to prep school with Michael Jackson and the two were close friends at the time.
11. Because Kathy, Kyle and Kim were forced into modeling and acting by their mom, Kathy Hilton did not want Paris or Nicole to be performers.
12. Kathy raised Paris and Nicky to be conservative, modest socialites who always think about how their actions will impact the family name.
13. On Real Housewives Kathy Hilton says she's never gone on a girl's trip. Paris confirms this when she says her parents NEVER sleep apart. When one travels, the other goes with them.
14. Paris and Nicole Ritchie both had their first kiss during a game of spin the bottle.
15. Growing up, Paris thought her dream job was veterinarian because she loves animals so much.
16. Although there's been tons of drama, Paris says Kathy, Kim and Kyle unconditionally love and support each other in a way she admires.
Paris' predator teacher
17. When Paris was in 8th grade she was attending a private catholic school in Los Angeles with nuns and everything. At this school one of her teachers told her he had "a crush" on her but that it was "our secret". The teacher called her every night (Paris had her own phone line, it was the 90s). He told her that it was normal for adult men to fall in love with children, just like Elvis did to Pricilla Presley. One night the teacher showed up at her house and asked her to come outside. She got in his car and he kissed her. Rick Hilton caught them in the act and the teacher sped off with Paris in the car, screaming "Why did you make me do this?" Her parents never mentioned the incident and the teacher never faced any consequences for grooming a student.
18. Speaking about why it took over 25 years for her to realize that her teacher was a pedophile, she says "Casting him in the role of child molester meant casting myself in the role of victim, and I just couldn't go there. I couldn't accept that all his praises—all those affirmations an eighth-grade girl desperately needs to hear—came from a place of malevolence, and I was stupid and vain enough to buy it."
19. Another way Paris explains it is that it's hard for victims to come to terms with being preyed on because they feel one of two things is happening, and one is a lot more flattering than the other: "You are a stupid child who was deceived, used, and thrown away like garbage." or "You are an irresistible siren whose beauty and allure have the power to change someone's mind, sway their soul, and alter their behavior."
Sent away to Palm Springs
20. After the incident Paris' parents sent her away to Palm Springs to live with her grandmother for a year. (For Real Housewives fans, this is the "god damn" house that Kyle supposedly stole from Kim). Paris was devastated to learn her family moved back to New York City while she was in Palm Springs.
21. Big Kathy (who Paris calls Gram Cracker) told her: "Before you were born, a psychic told me, 'This baby girl will someday be one of the most photographed and famous women in the world.' Brigitte Bardot, Audrey Hepburn, Marilyn Monroe, Grace Kelly—you'll be bigger than all of them."
22. In ninth grade Paris' first boyfriend was Randy Spelling – son of Aaron and Candy and brother to Tori Spelling. She hung out at their 56k square foot mansion in Bel Air. At the time Paris had only made out with boys and planned to stay a virgin until she was married. She wanted to grow up and have a relationship just like her parents had with each other.
23. Paris says her mom raised her to believe "guys only want what they can't have, so giving it up meant being unwanted the next day. She said blow jobs were beneath me. "That's for girls who are desperate. You don't have to get on your knees. You're Paris Hilton."
Second assault
24. One Saturday morning at the mall when she was 15 Paris and a friend ran into two guys in their late 20s she'd met a few times before at the mall. They invited the girls to their apartment and badgered Paris into taking a sip of a wine cooler even though she only wanted to drink the Sprite she brought with. She was drugged and passed out. She can't remember what happened when she was unconscious other than feeling the weight of someone on top of her.
"Things like what happened to me don't happen in a vacuum. Somewhere, I'm certain, there are many other women trying to forget the bad dream of that apartment. Maybe if one of them had told someone, it wouldn't have happened to me. And maybe if I had told someone, it wouldn't have happened to somebody else. That's why I'm telling you now."
25. While she refused to think about it for decades, she has now come to terms with this rape. She says she hopes this guy is "scared shitless" that she's not silent and compliant any longer.
26. After the rape she gave into pressure to sleep with Randy Spelling for the first time. His friends were saying he would cheat on her if she didn't sleep with him. Randy was 19 at the time and Paris was 15. She writes that she loved Randy but "froze up" when he touched her. She said this made for a better "how I lost my virginity" story so she pushed the rape out of her mind and rewrote her life story for many years.
Back to New York
27. In 10th grade Paris got to rejoin her family in NYC. They lived in a 2500 square foot apartment in the iconic Waldorf Astoria. Nicky got accepted to the prestigious Sacred Heart school but Paris could tell she wouldn't be happy there and bombed her interview. She ended up going to the Professional Children's School and was classmates with Macaulay Culkin and Christina Ricci. She says Macaulay lived in an apartment near school, so they partied there a lot.
28. Around this time Paris started reading Time Out New York religiously so she knew what the best parties and events were. She would wait until midnight and go to bars in order to learn where the underground raves were, then she would dance until morning. Her parents found out and were furious and eventually she was kicked out of school. Paris says she wasn't drinking or doing drugs during this time.
29. Kathy Hilton worked with Brent Bolthouse (of The Hills fame) and nightlife queen Jen Rosero to plan Paris' 16th birthday party. DJ AM played.
30. Paris was sneaking out so much that Kathy locked Paris in her room at night. For a week Big Kathy came to stay and slept on a cot outside of her room, but Paris still found a way to sneak out to go dancing.
31. Nicky would only go out with Paris on weekends because she wanted to get good grades.
32. Paris doesn't blame partying on her ADHD, but she does say going out is the only place she felt like she fit in and was accepted, and the only place she could get out all of her energy. She thinks if someone at school or even her therapist had recognized ADHD or helped her try to find her own way (instead of just telling her to be quiet and fit in) she may not have been so wild. She tries hard to understand where her parents were coming from because she was so traumatized by what they chose to do about it.
Institutionalized
33. After a completely normal evening at home, Paris was awoken in the middle of the night by two men grabbing her. One covered her mouth while the other put her in handcuffs. She fought against them as they forced her out of the family's Waldorf Astoria apartment. On the way out she saw her parents silently watching.
34. Paris would become a victim of the "troubled teen industry". The industry is a collection of unaccredited, for-profit progams run by malintentioned con artists that promise overwhelmed parents they can help their kids. In reality, the programs rely on sadistic and dangerous practices like brainwashing, corporeal punishment, rape, isolation, sleep deprivation, and workouts so dangerous multiple children have died during them.
35. Psychology Today says the programs are similar to "Jim Jones's Guyana, Patty Hearst's kidnapping, or Zimbardo's Prison Experiment."
36. Paris was put in an SUV with no door handles on the inside where she went into shock. The two men who had seized her told her to shut up and stop crying. She told them her parents would pay for her safe return and the men revealed that her parents were doing this "for her own good" (a common mantra of child abusers, as explored by Alice Miller in For Your Own Good). She was told she was being sent to a private boarding school.
37. When she arrived, school officials told Paris her parents had consented to give the school medical power of attorney over her so she had to comply or be drugged. She was forced to strip naked in front of a group of adults.The adults watched and laughed while one of them fondled Paris' genitals in order to search for contraband. She was told if she didn't cooperate the men would hold her legs apart.
38. Throughout her time at the school, male adults would watch underage girls shower in groups. They would laugh and make sexual comments towards the girls or discuss what they thought of their bodies. Paris was also part of a group of girls that were targeted for regular late night "vaginal exams" which basically meant staff could digitally rape students. Students were threatened with syringes or medication that would make them pass out if they wouldn't comply.
39. Paris says while foster kids were often sent to her school, many kids came from wealthy and loving families. Some kids weren't even "troubled", they were sent there because their parents hoped the program could turn them from gay to straight.
40. 90s celebrities like Maury Povich and Sally Jessy Raphael helped legitimize these places by hosting "wild child" episodes that sensationalized teen behavior and promised that the solution was to go to one of these for-profit programs. If this sounds crazy, the practice is still alive and well. Dr. Phil is famous for sending child guests (like Danielle Bregoli) on his show to these places.
41. While Paris' parents paid for her visit, many children are sent there on public funds.
"According to the Salt Lake Tribune, the state of Alaska spent more than $31 million in Medicaid funds to send 511 kids to facilities in Utah between 1999 and 2005. An average of $60,665 per child. And that's kids funded by the taxpayers of just one state. The millions CEDU raked in from insurance claims and private payers will never be known."
42. There were so many rules (ex: no looking out the window, no talking about McDonalds, no singing or humming, you have to report other students you think aren't working the program hard enough or you're "just as guilty"). They weren't given enough food to eat or water to stay hydrated so Paris would open her mouth and drink while she showered. The school made sure the students viewed each other as enemies so they wouldn't be able to band together.
43. The school psychiatrist told Rick and Kathy that Paris would lie and do anything to manipulate them into coming home. So, when Paris was finally allowed a phone call it was supervised by two staff members and her parents had been primed to disbelieve her. When Paris started telling them what was happening to her, staff took the phone away and told her parents she was lying.
44. One of the program's psychiatrists lived with three separate sex offenders. One of them killed two children that had been students under (obviously) suspicious circumstances. After Paris aged out of the school the psychiatrist was finally charged with multiple sex crimes including raping his child patients at the school. The program housed children as young as 8.
"There were bizarre exercises including one where a kid had to lie on the floor, a "trainer" shoved a towel in their mouth, and the kid had to bite down and try to keep their head on the floor, while the "trainer" yanked on the towel, fighting to lift them up. (And yes, this is as violent as it sounds. There were stories about people losing teeth and a girl whose jaw was so messed up she needed surgery.)"
45. Because she had so much experience climbing fences, Paris was able to escape and ran to a payphone where she called Kyle Richards. Kyle called Kathy who called the cops and they took Paris back to the school. When she returned a staff member backhanded her so hard she fell to the ground. Then one of the staff "enforcers" got on top of her and beat and choked her while a crowd of people watched.
46. Paris was transferred to another troubled teen program as punishment. During the transfer she kicked a bathroom door at one of the school's staff at the San Francisco airport so that she could run away. She escaped to the downtown Hilton where she called Kathy and told her what was happening. Kathy said she could come home. Instead, Kathy called the cops and they escorted Paris back to her captors.
47. Again at her new program the adult staff watched underage students while they showered. This time the "showers" were a bucket of cold water and bar soap.
48. Paris observed other students passing out while doing hard labor. If they had to go to the emergency room, they were handcuffed and the hospital staff was told not to speak to them. Students were slapped or held on the ground with staff kneeling on their neck as punishment for asking questions. If this sounds dangerous, it was. In 2000 a student died after a staff member kneeled on their neck for 45 minutes. Students also died from the forced labor, in one incident staff thought a student was faking heat stroke and watched him lay motionless on the ground for ten minutes before they checked his pulse. Autopsies of dead students found them covered in bruises from constant forced labor and beatings.
"Back at the camp, they made everyone sit on logs. Strip search. Cavity examination. One of the guys who always watched me during soap and bucket time said, "Now you're gonna see what happens when you run away." The creepy way he was smiling, I thought he was going to rape me right there in front of everyone. Thank God, he just beat the shit out of us."
49. At 17 Paris was sent to the Provo school where she was welcomed with a forced vaginal exam. She didn't see the sun for the next eleven months.
50. Paris finally got out of the troubled teen system a few weeks before she turned 18 after her family visited for Christmas and she was able to tell Rick Hilton that when she turned 18 and left she was going straight to the Wall Street Journal to tell them everything that had happened to her. Her parents said they thought nothing bad could be happening at the school both because they were paying so much money for it.
"Someday, I decided, I'm going to work so hard and make so much money. Like a million dollars. And then I'll be safe and fuck trusting anyone ever again."
Becoming an It Girl
51. Paparazzi became obsessed with a Paris-Lindsay Lohan feud when Lindsay said Paris dumped a drink on her. Paris says she has no idea what Lindsay was talking about. Lindsay was present during the convo between Paris and the paparazzi (it was the night of the infamous "Bimbo Summit" Paris-Britney-Lindsey in a car photo) and denied the two had ever had any beef.
52. Of Lindsay Lohan, Paris says "We're not close but I always wish her well."
53. When Paris was in the troubled teen industry, they told her if she ever talked about what happened to her people would think she was crazy and she'd be institutionalized again. Paris says seeing her close friend Britney Spears forced into a conservatorship was especially scary because it was just like what her abusers said would happen if she spoke out.
54. She told her grandpa Hilton that she wanted to make a hundred million dollars. He didn't laugh at her and took her seriously. While he didn't give her money, he advised her and believed in her. Later, he famously said "Most of my life I was known as Conrad Hilton's son. Now I'm Paris Hilton's grandfather."
55. Paris says one of the reasons she loves such colorful and fun fashion is that her childhood was taken from her so she likes to indulge in playing dress-up as an adult.
56. Paris currently uses five phones: a work phone, a personal phone, a phone for "Europe", a phone for prank calling, and a phone she never uses but gives the number out when she's too nice to decline.
57. Early in her career Paris pretended to be her own manager so that she could more comfortably negotiate business deals.
Harvey Weinstein encounter
58. Paris met Harvey Weinstein at the Cannes Film Festival in 2000. They had lunch with Paris' producer friend and Weinstein was belligerent and creepy. The next night Weinstein saw her at an event and followed her into the women's bathroom where Paris locked herself in a stall. Weinstein was shaking the door trying to get in and yelling "Ya wanna be a star???" Luckily event security noticed him going into the women's bathroom and intervened.
"I told no one, because that's what you did back then. It was like the bucket shower thing; if you wanted to survive, you just accepted it. Years later, when the scandal happened and the Weinstein power structure started to crumble, reporters kept asking me, "Have you ever had a Harvey Weinstein thing?" And I said, "Nope." I was embarrassed by it, and I have a pathological fear of embarrassment. I was afraid that if I shared that story, the next question would be, "Why didn't you speak up at the time?" and I had no answer for that.
1 Night in Paris
59. When she met Rick Salomon (who she does not name), he was known by the nickname "Scum".
60. Salomon pushed her to make a sex tape for him and said he'd done it with lots of women. She said no over and over. Salomon told her if she wouldn't do it, he would dump her. She felt stupid and like she was making a big deal out of something adults do and gave in.
70. She was 19 and Salomon was 31.
71. Paris feels she was asexual at this time as a result of being raped and abused by so many men. She felt like she never had the time to get comfortable with men before it got to the point where if she didn't sleep with them she would be a tease so she faked physicality she didn't feel. Because of this, Paris spent most of her adult life thinking everyone faked orgasms so sex could be over.
72. In order to be able to make the sex tape with Salomon she got drunk and took quaaluudes.
"That tape, made when I was not legally old enough to be served a rum and coke in a bar, was released and monetized against my will, but when that thing hit the internet, the full weight of public outrage, scorn, and disgust came down on me instead of on the massive crowd of people who bought and sold it, sparking a steady drip of fake Paris Hilton sex tapes, and blazing a trail for a whole cottage industry that would ruin the lives of other vulnerable teenage girls in the future."
73. She never imaged the tape would come out firstly because the internet was so different when it was made. She also thought "There's no reason to think a random guy you meet in a bar could be that rotten. Or that smart."
74. Paris called Salomon and begged him not to publish the tape but he was completely calm and cold and told her he had a right to make money off of his property.
75. As soon as she was told the tape was coming out she boarded a 14 hour flight. The woman next to her noticed her crying and comforted her. Paris opened up to the woman about what she was going through. She later discovered the woman was planted in that seat and had recorded the conversation. It was in print the next day.
The Simple Life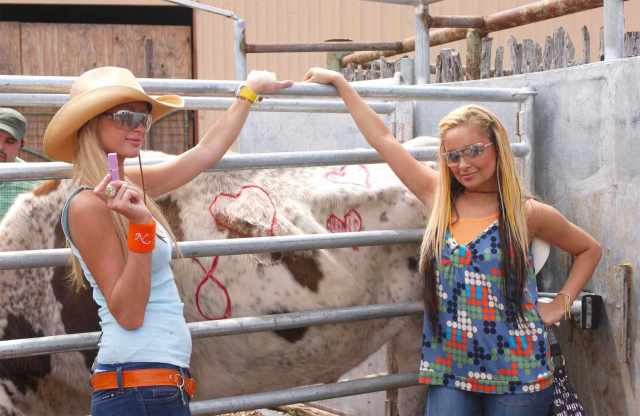 76. Paris signed on for The Simple Life right away.
77. Originally they wanted Paris and her sister Nicky to star, but Nicky is way too conservative so she called up her childhood friend Nicole Ritchie. Nicole was also immediately game.
78. Paris loved working on The Simple Life and remains in contact with the Leding family among others she met during the show.
79. She ran into Chops as an adult, he's now an exec at Netflix.
Success and recent years
80. Paris' first manager turned down an offer for Paris to be the first celeb on Facebook.
81. Paris says she "doesn't believe in overexposure".
82. Hugh Hefner begged her to pose for Playboy and even offered her seven figures. When she refused, Hef ran a photo of her on the cover under the pretense of it being a "news article" so they didn't have to pay her anything.
83. Paris was shocked and upset by her South Park parody considering she had met Trey Parker and Matt Stone and thought they were friendly. What especially bothered her was the depiction of her dog Tinkerbell being shot.
84. When someone asked Matt Stone about Paris being upset, he said "That shows how fucked up she is."
85. Paris was also upset about the South Park episode where Cartman says if he had one wish he would want Selena Gomez to be beaten while he watches. It's creepy anyway but in real life, Selena was dealing with a stalker at that time which made it even more cruel.
"Process that script with me for a sec: A teenage girl is brought in to be beaten for the gratification of the protagonist. Someone beats her and then says, "All right, get her the fuck out of here." As if the girl they've just assaulted is a piece of garbage to be disposed of. That's the bar now…How is something like that accepted—by all of us—as funny? How do we not see that the treatment of It Girls translates to the treatment of all girls in our culture?"
86. Paris talks a lot about how things have changed since #Metoo and how she has learned that she doesn't have to be silent or comply anymore. In doing this, she also examines some of her own bad behavior over the years. For instance, she talks about regretting dressing up as a sexy Pocahontas for a Playboy party.
87. In her own words, a great example of healing and moving on happened on Paris' podcast when she and Nicky discussed the 2004 Grammy awards where Sarah Silverman and other guests who had partied at her house were laughing and cheering about her imminent 45 day jail sentence. Paris was terrified to go to jail because she knew it would be somewhat similar to her time in the troubled teen industry. At the time people weren't aware of anyone besides combat vets suffering from PTSD and they definitely weren't accommodating to triggers. After the episode, Sarah Silverman released her own podcast episode where she talked about how she regrets being cruel to Paris and she has tried to change her comedy to be healthier in the many years since that happened.
"[Paris] said herself on the podcast, that would never happen today. And she's right. I would never do those jokes today. I've actually dedicated the past several years trying to do comedy that attempts to marry hard-hitting jokes with actual heart."
88. (The morally corrupt) Faye Resnick was her interior designer and suggested Kim Kardashian to help her organize her closet.
89. She sometimes travels with extra tiaras so she can give them out "as the spirit moves me".
90. For years and years Paris travelled most of the year.
"The carousel ride went around and around, following the same global path year after year: Cannes Film Festival. Let's go. After Cannes, it's the Monaco Grand Prix. From there we all fly to Ibiza, then Saint-Tropez, Tomorrowland, Coachella, Burning Man, Ultra Music Festival, Art Basel, Miami, EDC."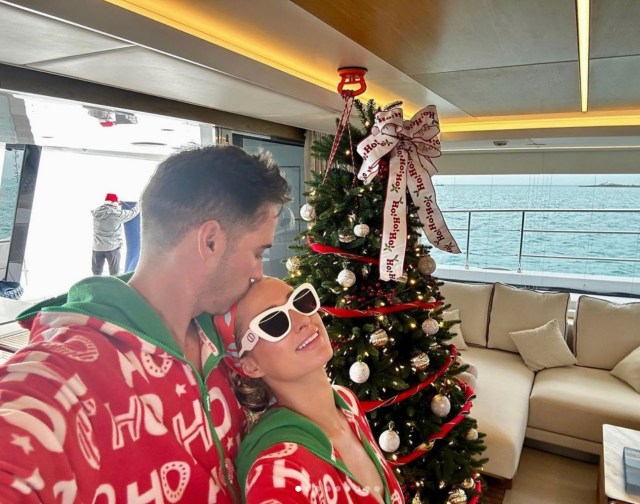 91. She met her husband Carter over Thanksgiving break in the Hamptons at a family friend's home. The two had actually met a few times, including one party at Paris' home when Carter smoked weed with Snoop Dogg and Suge Knight all night. Paris doesn't remember any of these meetings but thought he was cute and immediately liked him when they "met" at her family friend's house. Unlike all the other men she had ever dated, she felt comfortable kissing him right away.
92. Paris says she's never met a man who loves like Carter. She thinks he's such a good person because he's from the Midwest and is close with his family. He proposed on her 40th birthday and her wedding was detailed on the reality show Paris in Love which also documents Paris and Kathy Hilton working on their relationship. Paris and Carter recently welcomed baby Phoenix Barron into the world.
"I want you to know right now: The people who hurt you don't get the last word. You get to tell the story of you, and your story has more power than you can imagine.
Paris: The Memoir is available on Amazon and everywhere books are sold.