Fringe and fur. Brocade and lace. All the textures! The fashion from the first few episodes of Daisy Jones & The Six, releasing today on Amazon Prime, have me seriously wishing for a full 1970s fashion comeback. It isn't just bellbottoms and denim on denim (though there's plenty of that too–especially for Billy Dunne and the rest of the guys in The Six). Daisy, Camila, and Karen's outfits should all be in our closets, stat. While there are definitely more "far out" gems to come in future episodes, these are some of the best outfits rocking the screen so far.
Daisy's All-Coat, No-Top Moment
Honestly, this whole outfit is iconic. The brown and gold suede boots matching her shorts? The color-blocked suede and fur coat over no top at all? Why show off midriff in today's crop tops when you can go completely bare? Riley Keough's Daisy Jones is sporting the topless look that was popular during the bra-burning era of 1970s American hippie culture. With the early 2010s' "Free the Nipple" movement, it's certainly a welcome way to stick it to the man.
Camila's Soft Macramé Halter Dress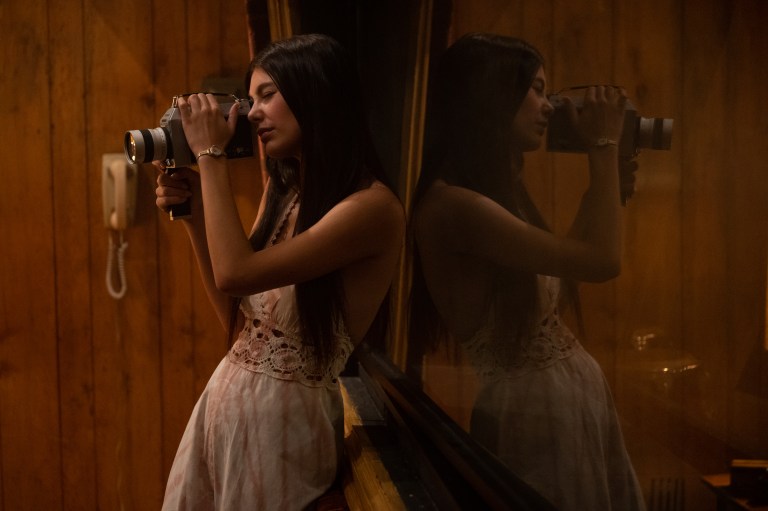 Of all the ways to wear straps, the 1970s were all about the halter. If you weren't baring your shoulders, you weren't truly living. This soft, romantic halter dress, worn by Camila Morrone's Camila Dunne, has everything you wanted in the '70s. The halter neckline, the vague tie-dye, the macramé lace at the midriff. Sometimes you just want to sprawl out in a meadow like the Bohemian goddess you are. (Or in Camila's case, record your husband's rock band for posterity.)
Daisy's Brocade Jacket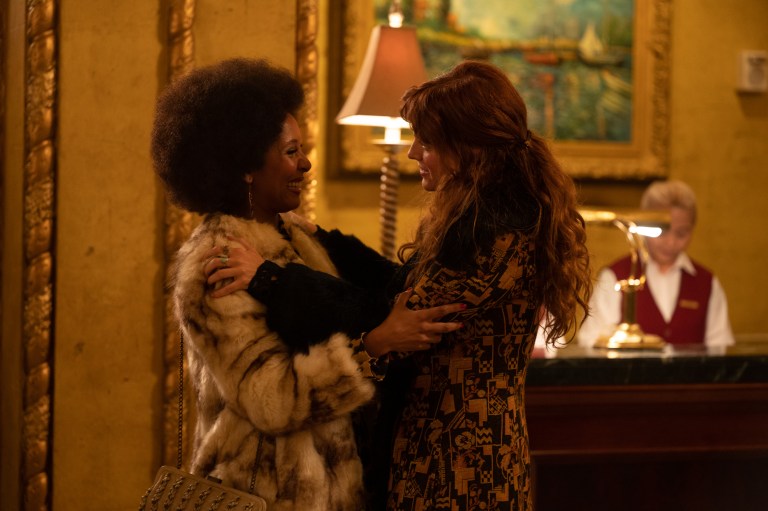 It wasn't all fur and tie-dye. A big trend in the 1970s hippie movement was intense brocade. That's the thick embroidered fabric that's making Daisy Jones' jacket look so lush and amazing in the above shot. It's giving "I turned my grandma's old couch into a jacket," and I'm here for it. If anyone's sofas become mysteriously bare, you know why.
Daisy's Stage-Ready Flowing Fringe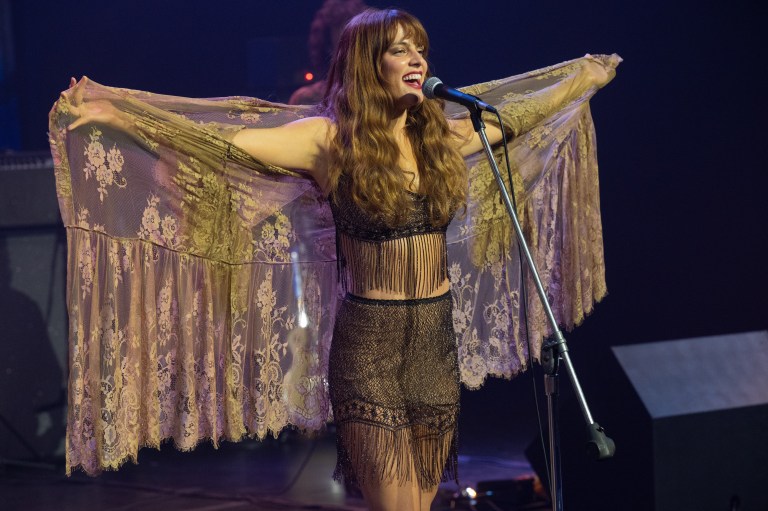 Of course, look to Daisy's stage outfits for some real retro bangers. Here, she's got on a gorgeous sparkly top and short skirt with black fringe flowing down from the lacy edges. Over the top, she's got the flowing shawl that gives a nod to the real lead singer that's at least partly the inspiration for Taylor Jenkins Reid's novel: Stevie Nicks from Fleetwood Mac. If you really want some IRL stage presence, spin around with a flowy layer of mesh and lace like this one.
Want more outfit inspiration? Check out new episodes of Daisy Jones & The Six releasing every Friday now through March 24, 2023, only on Amazon Prime.