Ryan Murphy's anthology horror series American Horror Story has been a favorite of horror fans ever since it premiered with the first season, Murder House, in 2011. Fans love the anthology format — each season has a different setting and storyline — as well as actors like Sarah Paulson and Evan Peters returning to play new characters season after season. Adding to the intrigue is Murphy's penchant for teasing out the theme of each season with clues before the name is announced as well as hinting that all of the seasons are connected in a meta universe.
Here is a ranking of every season of American Horror Story:
Coven
Most iconic moment: Fiona's boyfriend mass murders her enemies while Marie Laveau gets bored and texts.
The third season of American Horror Story is the most iconic in the franchise. Jessica Lange rules the world as the Supreme of a coven of witches, Fiona Goode, while her daughter, Cordelia Foxx (Sarah Paulson), runs a secret school for young witches called Miss Robichaux's Academy for Exceptional Young Ladies. Zoe Benson (Taissa Farmiga) is the new witch at school with classmates Madison Montgomery (Emma Roberts), Queenie (Gabourey Sidibe), and Nan (Jamie Brewer). Kathy Bates also has a role as the unfortunately immortal Delphine LaLaurie. Further complicating matters is a rival coven run by Marie Laveau (Angela Bassett) and a pack of werewolves intent on hunting all witches down. Stevie Nicks even made a cameo as her witchy self making this a wildly popular season of the show.
1984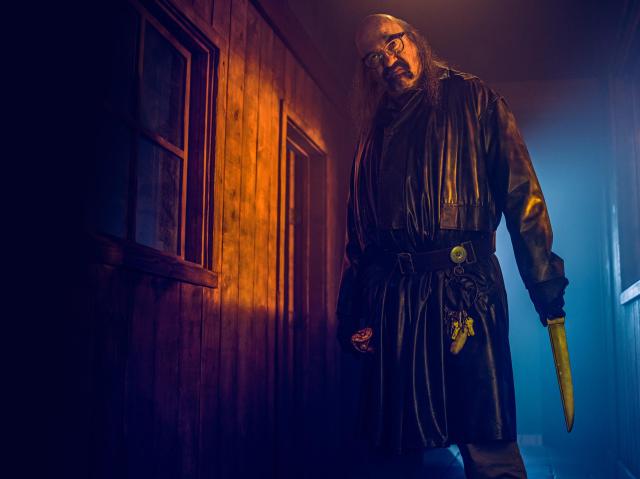 Most iconic moment: Margaret Booth tells the story of Mr. Jingles.
The ninth season of American Horror Story was an homage to classic slasher films like Halloween (1978) and Friday the 13th (1980). A group of friends from Los Angeles head into the woods to work as camp counselors for the summer. This was the first season where Sarah Paulson and Evan Peters took a season off, and it was so good we barely noticed the absence of these AHS icons. 1984 was AHS at its best: cool characters, campy fun and bloody scares.
Murder House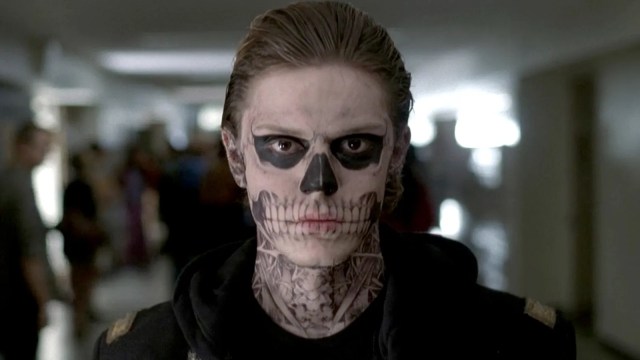 Most iconic moment: Tate Langdon's school shooter flashback.
The first season of American Horror Story is set in 2011 and follows the Harmon family, Ben (Dylan McDermott), Vivian (Connie Britton) and Violet (Taissa Farmiga), as they move from Boston to Los Angeles and end up in a murder mansion haunted by everyone who has ever died there. Almost immediately Vivian and Violet are targeted by serial killer enthusiasts who intend to reenact a famous murder that happened in the home with the new residents as the intended victims. The family then learns that another former resident, Charles Montgomery (Matt Ross) used to perform illegal abortions in the basement. They also mistakenly "hire" two ghosts of former residents as interior designers, confuse a ghost for a client (and love interest!), and get impregnated by an undead man in a rubber suit. Jessica Lange won a Primetime Emmy for her role as the Harmon's neighbor, Constance Langdon, and the series received 17 total Emmy nominations for this season. It's also the only season with goddess Connie Britton, another reason "Murder House" is a fan favorite.
Cult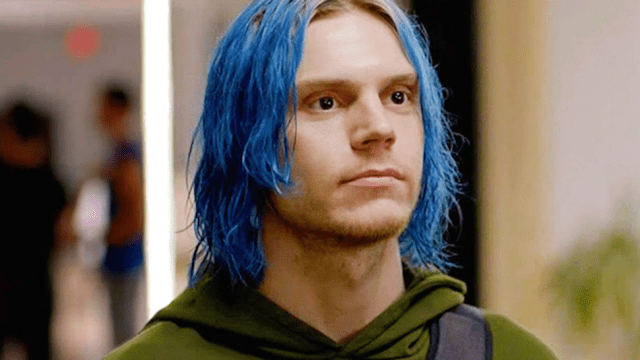 Most iconic moment: The election night flashback.
The seventh season of American Horror Story satirized the very scary 2016 election and the rise of incel Trumpers like Evan Peters' character du jour, Kai Anderson. Lesbian couple Ally (Sarah Paulson) and Ivy (Allison Pill) live with their son Oz in a suburb in Michigan. Following the 2016 election, sightings of scary clowns occur in town and their Asian-American neighbor Tom Chang (Tim Kang) goes missing. The couple hire Winter (Billie Lourd) as a nanny and engage with their new neighbors Meadow (Leslie Grossman) and Harrison (Billy Eichner) while a creepy cult begins taking over the town.
Asylum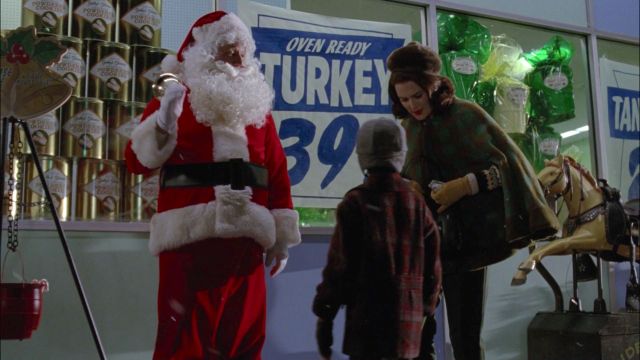 Most iconic moment: The Santa Claus killing spree.
The second season of American Horror Story is set in 1964 and takes place at the fictional Briarcliff Manor asylum. One of the scariest seasons, Asylum features a serial killer named "Bloody Face", alien abductions, escaped Nazi war criminals and all the creepy crawlies of a 1960s dilapidated medical institution. The season received 17 Primetime Emmy nominations with James Cromwell winning Best Supporting Actor in a Miniseries or Movie for his role as Dr. Arthur Arden.
Apocalypse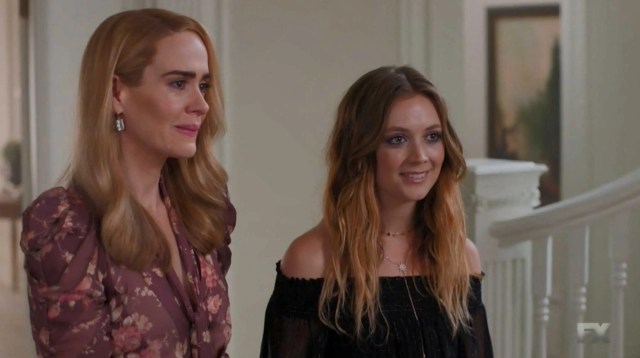 Most iconic moment: Mallory is revealed as the supreme.
The eighth season of American Horror Story brings together many characters from previous seasons as it tells the story of life after nuclear warheads destroy Los Angeles. A group of eclectic survivors gather at "Outpost 3" to survive nuclear winter together. After 18 months, Michael Langdon (Cody Fern) arrives to determine who from the outpost will be "saved". Later, the witches from Coven finally figure out who the new Supreme is.
Hotel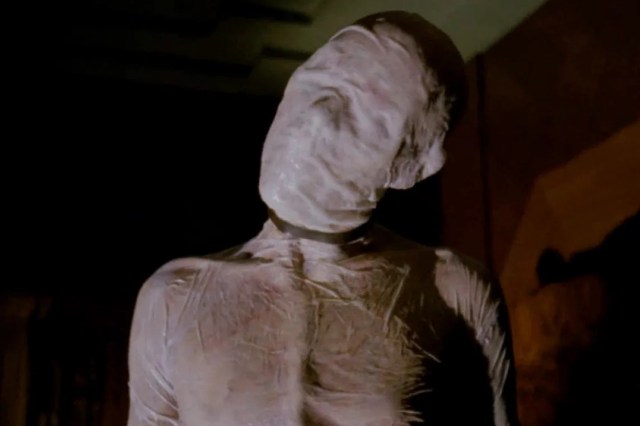 Most iconic moment: The addiction demon.
The fifth season of American Horror Story centers around the Hotel Cortez in Los Angeles, loosely based on the Cecil Hotel where many mysterious deaths have taken place. Lady Gaga joined the cast for this season, playing The Countess, the evil vampiric owner of the hotel. Hotel guests alive and dead are shown checking into the Hotel Cortez only to learn that checking out is much more difficult.
Double Feature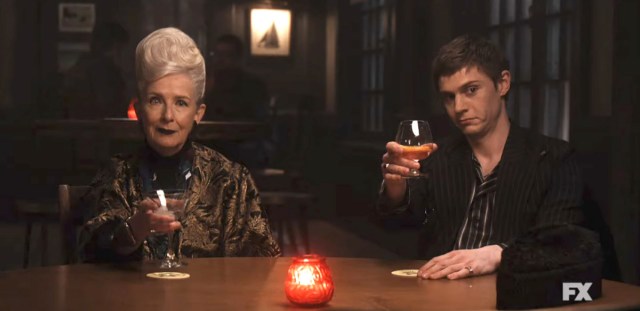 Most iconic moment: The town's resident artists make visiting playwright Harry Gardner an offer he can't refuse.
The tenth season of American Horror Story is split into two parts, "Red Tide" and "Death Valley". "Red Tide" takes place in Provincetown, Massachusetts where black pills give the residents creative power and a taste for blood. "Death Valley" takes place in 1954 Albuquerque, New Mexico where a secret treaty is signed between aliens and President Dwight D. Eisenhower that allows 5,000 Americans to be abducted each year for the aliens to study.
Freak Show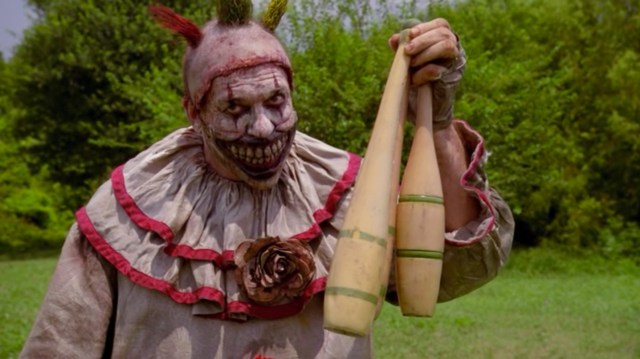 Most iconic moment: The appearance of Twisty the Clown.
The fourth season of American Horror Story centered around one of the last Freak Shows in existence, operating in Jupiter, Florida in 1952. The show struggles to go on even after conjoined twins Bette and Dot (both played by Sarah Paulson) are brought on. The lives and backstories of the performers are shown and intertwined with murderous clown Twisty (John Carroll Lynch), undead freak Edward Mordrake (Wes Bentley) and the Freak Show's owner Elsa Mars (Jessica Lange). The season is based on the 1932 horror classic Freaks directed by Tod Browning.
Roanoke
Most iconic moment: Go Pros capture the gruesome death of Sophie (Taissa Farmiga) and Milo (Jon Bass) as they are impaled and burned at the stake.
The sixth season of American Horror Story follows a family, Shelby Miller (Lily Rabe), Matt (André Holland), and Matt's sister Lee Harris (Adina Porter), who move to a remote farmhouse in North Carolina on land near the old Roanoke colony. The story is told in a faux documentary style for the fictional program My Roanoke Nightmare and recounts the family's struggle with violent ghosts, cannibalistic neighbors and a witch played by Lady Gaga.