Whether it's the height of spooky season or just any old day of the year, sometimes you want to partake in the creepy episodes of your favorite sitcoms. Today, we're talking about everyone's favorite workplace comedy set in Scranton, Pennsylvania: The Office. Over nine seasons, The Office had only six Halloween episodes, but what we do get is often some of the funniest of their respective seasons. Watch for the ridiculous costumes (like Oscar as an "informed consumer" or Jim as a "three-hole punch") and stay for the development of all your favorite characters with a spooky backdrop. From your resident Office stan, check out my definitive ranking of the best The Office Halloween episodes. This includes the now-banned cold open from season 6–and where to watch it.
6. "Spooked" (Season 8, Episode 5)
Halloween is supposed to be fun, but this post-Michael Scott episode didn't get the inter-office memo. It's the beginning of Andy Bernard's reign as boss of Dunder Mifflin Scranton, which most Office fans agree is a crash-and-burn story choice that never pays off. And with his drama with Erin in this episode, as well as trying to impress Robert California, it's more of an unfunny slog than a madcap holiday episode.
5. "Employee Transfer" (Season 5, Episode 6)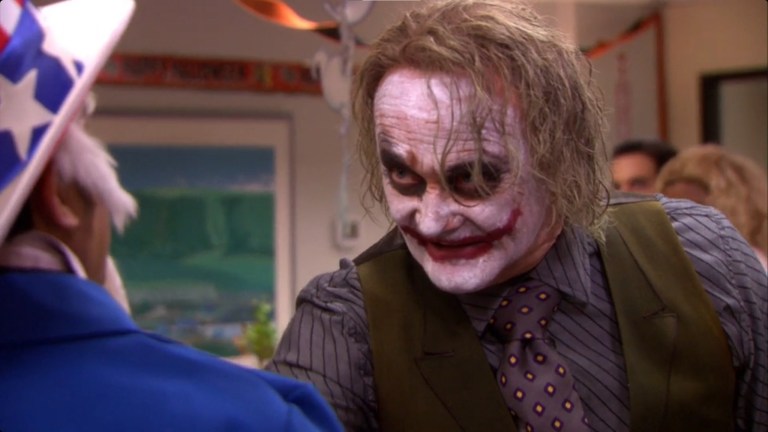 Here's another one where the Halloween aspect of the episode is only for the cold open–although you can still catch this on Peacock or in reruns, unlike "Koi Pond" below. All we get in this is a look at a handful of costumes. We have Kelly teetering on insanely high high heels as Carrie Bradshaw and Andy as a "kitty cat" in a Broadway-inspired Cats costume. The best though is three people wearing the exact same Joker costume (the Heath Ledger variety) with Creed, Kevin, and Dwight. While this is a great episode for the emotional road trip send-off for Holly, the ultra-short Halloween section is pretty forgettable.
4. "Koi Pond" (Season 6, Episode 8)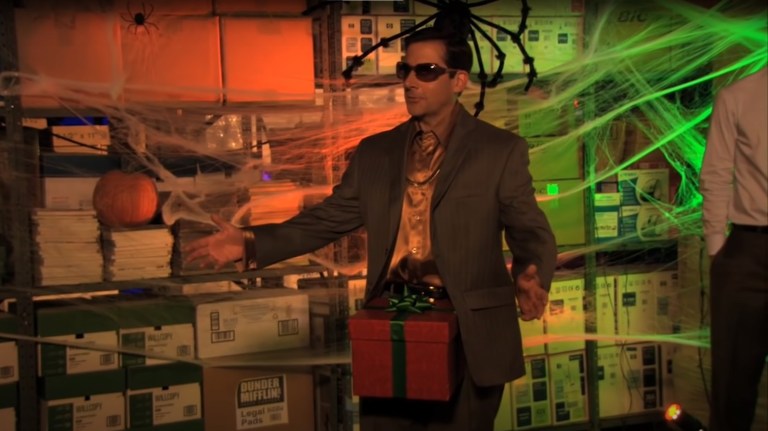 Okay, the Halloween aspect to this episode is only in the cold open, but hey, it still counts. The only problem is that if you go back and watch the episode on Peacock, it won't be there. In this segment, the Scranton branch of Dunder Mifflin is hosting a kids' haunted ride in the warehouse. It isn't the the "dick in a box" costume Michael's wearing that made this segment get banned. Rather, it's Michael Scott pretending to hang himself during the climax of the ride. NBC has since removed it from reruns and their Peacock subscription service, but you can find the clip on their official YouTube page if you want to see it. For its elusiveness–and Jim's "Facebook" costume–this The Office Halloween episode gets a higher spot on the list. Thanks for the peak Office cringe.
3. "Here Comes Treble" (Season 9, Episode 5)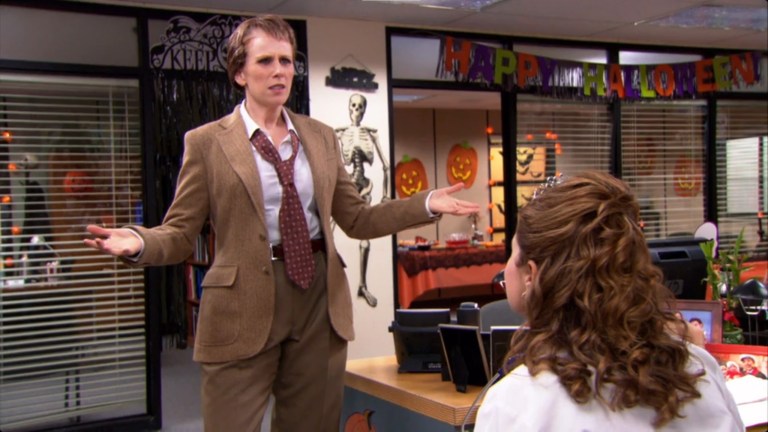 The last season of The Office was a great send-off to a beloved show, and their final Halloween episode's included in that. While it does feature a fighting Pam and Jim (no thanks), it has some great character development for Dwight as he realizes he may need help from Nellie. And speaking of series newcomer Nellie, she has what can be considered the best costume of any Office Halloween episode: HR Toby. And this is made even funnier by Toby's horned-up reaction to a woman dressed as him. This episode is proof that they could still write gems even after Steve Carell left the show.
2. "Halloween" (Season 2, Episode 5)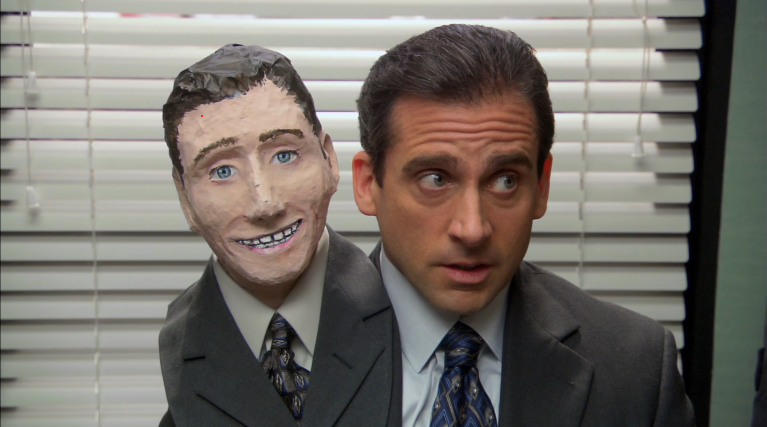 The very first Halloween episode of The Office is a classic. It has the lightly cringy feeling of the early seasons of the show with the romantic tension between Jim and Pam that hasn't yet boiled over. The drama is less about Halloween itself, and instead about Michael having to fire someone by the end of the day. With Halloween being an incidental backdrop rather than a plot point, this episode just misses the top spot for best Office Halloween episode.
1. "Costume Contest" (Season 7, Episode 6)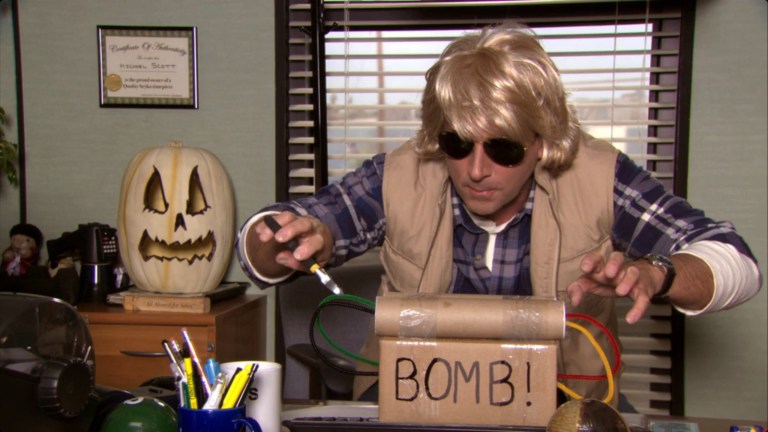 The Dunder Mifflin Scranton branch is holding a costume contest for Halloween, if they can avoid the drama between Michael and Daryl. This is the Halloween episode from when The Office had really hit its stride. We get some of the best costumes overall of any episode (especially Gabe as Lady Gaga). Plus, this is the only episode where Jim comes fully dressed in an actual Halloween costume–and his reasons are adorable. There's the right balance of cringe, hopefulness, and comedy that makes this show a must-watch so many years later.